Hours After Saying Nobody Cares About AOC, Ben Shapiro Pens Two Columns About Her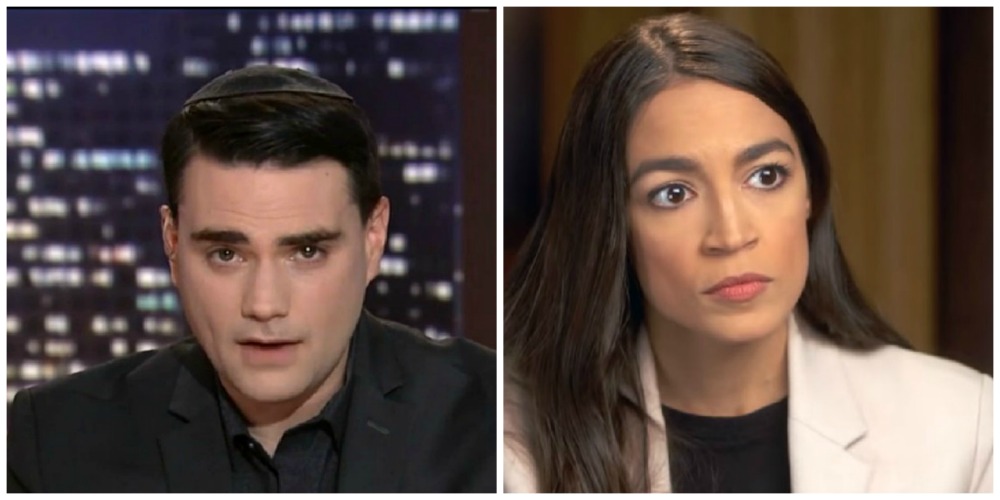 Shortly after agreeing with President Donald Trump's "who cares" remark about freshman Democratic Congresswoman Alexandria Ocasio-Cortez, Daily Wire editor-in-chief and "Cool Kids' Philosopher" Ben Shapiro had two separate AOC columns published while firing off multiple tweets about the progressive superstar.
Speaking to reporters on the White House lawn Monday morning, Trump was asked to give his thoughts on the New York lawmaker recently calling him a racist. The president dismissed the question with a wave of his hand while curtly saying "who cares." Shortly after, Shapiro tweeted out his agreement with the president.
Correct https://t.co/opvnTk7QLu

— Ben Shapiro (@benshapiro) January 14, 2019
Yet, an hour later, Shapiro — who last year challenged Ocasio-Cortez to publicly debate him for $10,000 — was trolling AOC on Twitter. Because, obviously, he is not obsessed.
Glad you're qualified for something https://t.co/c3vgczlR2Y

— Ben Shapiro (@benshapiro) January 14, 2019
Bartenders can certainly go on to serve in Congress! But they should also be good at, you know, other things (besides social media SLAYING!1!!). And AOC is not. https://t.co/33r6wJj1fr

— Ben Shapiro (@benshapiro) January 14, 2019
That's an accomplishment, not a qualification. See, e.g., Trump, Donald. https://t.co/WJucn8dKct

— Ben Shapiro (@benshapiro) January 14, 2019
But it wasn't just limited to tweets. While Shapiro wants everyone to know no one cares about Alexandria Ocasio-Cortez, he had two anti-AOX columns up by midday Monday. The first one, published by Newsweek, focused largely on the 29-year-old democratic socialist's proposal to raise marginal tax rates on the ultra-wealthy.
My latest at Newsweek: https://t.co/asAKGs8fip

— Ben Shapiro (@benshapiro) January 14, 2019
The second column was posted to his site Monday afternoon and saw the right-wing pundit arguing that there are six reasons why AOC is the "leftist Trump," complete with an unflattering featured image.
— Ben Shapiro (@benshapiro) January 14, 2019
Another Daily Wire writer, Ryan Saavedra, also wrote a Monday piece detailing how his boss had totally shredded Ocasio-Cortez with one of his tweets.
This isn't the first time that Shapiro has claimed he and other conservative media personalities aren't consumed with the young House member. After an attempt by right-wing accounts to mock Ocasio-Cortez for dancing in a college video blew up in their faces, Shapiro joined other conservatives in claiming the media was pushing a false narrative that they're personally obsessed with her.
It was pointed out to Shapiro, however, that he had tweeted about AOC 21 times in the past day or so.
Okay, this is epic pic.twitter.com/OkjbnE3MUO

— Parker Molloy (@ParkerMolloy) January 5, 2019
Indeed, this is epic.