Kellyanne Conway Lashes Out At CNN's Jim Acosta: You're A 'Smart-Ass' Who No One Likes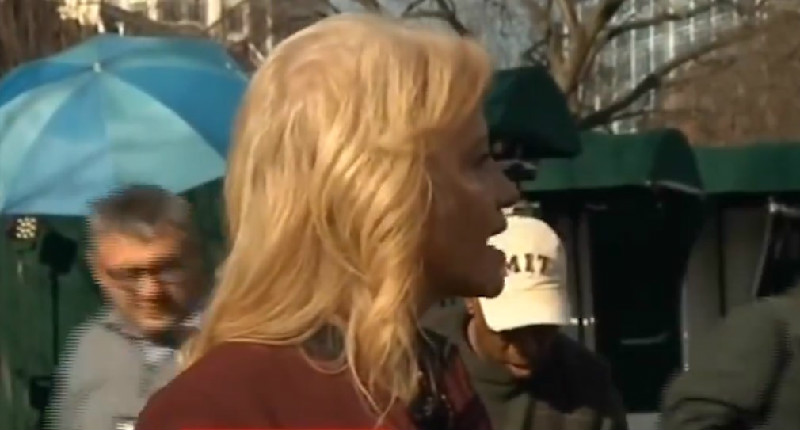 Looks like the White House wants to continue its feud with CNN, and especially, chief White House correspondent Jim Acosta.
Ahead of President Donald Trump's national primetime pro-wall speech, White House counselor Kellyanne Conway took questions from reporters on the White House lawn. With quite a bit of discussion centered recently on the administration and Trump spreading falsehoods around border security and how networks should handle fact-checking the president's Oval Office address, Acosta asked Conway if she could promise that POTUS will tell the truth.
"Yes, Jim, and can you promise that you will?" Conway snidely responded. "The whole truth and nothing but the truth, so help you God? Am I allowed to mention God to you?"
Acosta told her that he would be truthful before the two began going back and forth, leading the CNN reporter to bring up Conway's infamous "alternative facts" moment.
"Let me get back in your face, because you're such a smart-ass most of the time, and I know you want this to go viral," she exclaimed, using a well-worn go-to line.
She then insisted that most of the other press corps dislike Acosta, a correspondent the White House tried to ban just a few weeks ago.
"A lot of these people don't like you," Conway said. "But let me just be respectful to the media writ large, as I always am. I explained that that was alternative information and additional facts. And I explained it many times. And don't you put it back in my face for all the corrections that your network needs to issue."
Earlier today, Conway did some damage control during a Fox News appearance, saying White House Press Secretary Sarah Huckabee Sanders' claim that 4,000 terrorists had been stopped at the southern border was an "unfortunate misstatement." Sanders had been brutally fact-checked on the misleading statistics by Fox News' Chris Wallace during a Sunday interview.
Watch the clip below, via Daily Wire's Ryan Saavedra.
CNN's Jim Acosta: "Kellyanne, can you promise the president will tell the truth tonight?"

Conway: "Yes, Jim. Do you promise that you will? … this is why I am one of the only people around here who even gives you the time of day…because you're such a smartass most of the time" pic.twitter.com/8fZ1iycl9R

— Ryan Saavedra (@RealSaavedra) January 8, 2019