Maddow Thrives, Hannity Struggles Going Up Against National Championship Game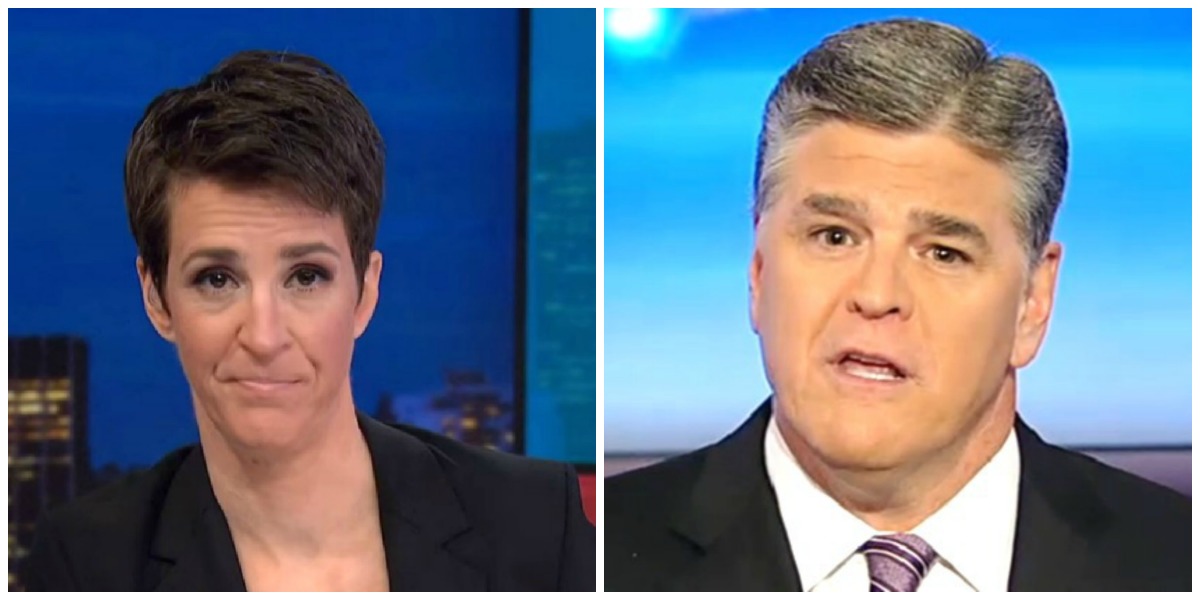 Monday night featured the CFP Championship Game between Alabama and Clemson, so it was understandable that cable news ratings would be down for the evening with millions tuned in to watch Clemson destroy the Crimson Tide. Fox News, however, was harder hit than rival MSNBC as the conservative-leaning network was defeated across the board in primetime.
According to Nielsen, MSNBC averaged 2.374 million total viewers and 379,000 in the key 25-54 demographic during the 8 PM to 11 PM primetime hours. Fox News drew a demo audience of 323,000 and 1.924 million viewers overall. CNN nabbed a total viewership of 1.093 million and 284,000 in the key demo.
In the daytime 9 AM to 5 PM time slot, Fox News pulled in 1.361 million total viewers and 221,000 in the demo. CNN also grabbed a demo audience of 221,000 while averaging 916,000 viewers overall. MSNBC attracted 1.201 million total viewers and 156,000 in the demographic.
MSNBC's The Rachel Maddow Show, despite airing against the game, drew a total audience of 3.008 million and 500,000 in the key demo to lead cable news in both categories. Fox's Hannity, which also airs at 9 PM, struggled as it captured 1.965 million total viewers and 342,000 in the demographic, finishing sixth and seventh respectively. This also marked the third straight night that Maddow beat Hannity, 2018's most-watched cable news program, by at least a million viewers.
Fox News' The Five placed second overall in both the demo (401,000) and total viewership (2.433 million). MSNBC's The Last Word with Lawrence O'Donnell took third place in total audience (2.329 million) while settling for eighth in the 25-54 metric (337,000).
The top-rated show on CNN was Erin Burnett OutFront, which drew 1.116 million overall viewers and 343,000 in the demo.