'Tucker Carlson Tonight' Still Losing Advertisers As Farmers Insurance Latest To Pull Out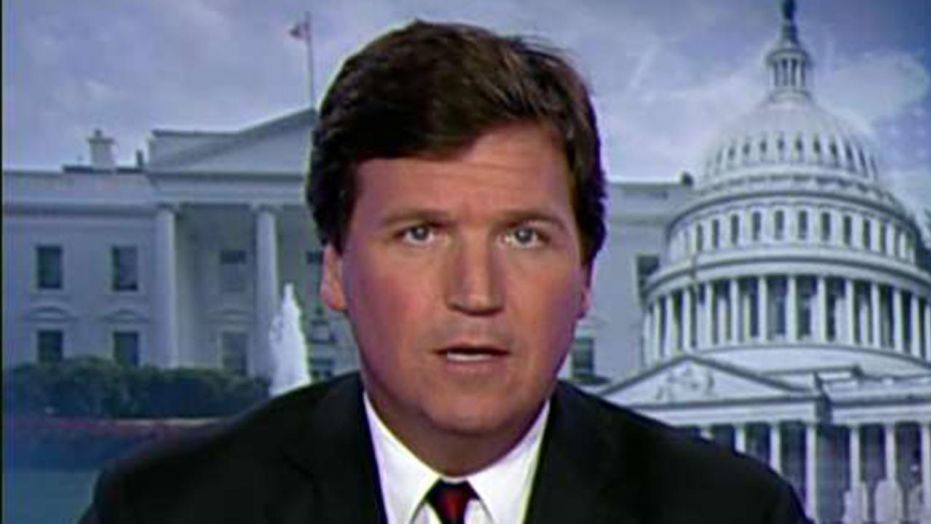 Over the past couple of weeks, Fox News primetime program Tucker Carlson Tonight has seen a mass exodus of national advertisers following his remarks that immigration makes America "poorer and dirtier, and more divided." While the eponymous host is taking a holiday break and will be off the air until January 3rd, it hasn't stopped sponsors from fleeing.
After initially sticking by the Fox News show during the early days of the ad boycott, Farmers Insurance told The Hollywood Reporter's Jeremy Barr that they have "halted advertising on Tucker Carlson Tonight."
A quick update: FARMERS INSURANCE (@WeAreFarmers) has changed their mind and pulled their advertising from Carlson's show. Spokesperson: "We have halted advertising on Tucker Carlson Tonight." pic.twitter.com/DBi5roJGD3

— Jeremy Barr (@jeremymbarr) December 28, 2018
This makes at least 24 companies that have announced that they will no longer advertise on the show since the conservative host made his comments. Following that December 13th monologue, progressive activists Jordan Uhl and Sleeping Giants spearheaded a social media campaign that targeted the show's advertisers, starting with that segment's lead sponsor, Pacific Life.
After Pacific Life suspended its advertising with the program, Fox News responded by blaming "left wing advocacy groups" and claiming they were trying to "stifle free speech." When more advertisers bolted, Fox News released another statement specifically blaming Sleeping Giants and media watchdog Media Matters:
"We cannot and will not allow voices like Tucker Carlson to be censored by agenda-driven intimidation efforts from the likes of Moveon.org, Media Matters and Sleeping Giants.
Attempts were made last month to bully and terrorize Tucker and his family at their home. He is now once again being threatened via Twitter by far left activist groups with deeply political motives.
While we do not advocate boycotts, these same groups never target other broadcasters and operate under a grossly hypocritical double standard given their intolerance to all opposing points of view."
With two dozen corporations now having pulled their commercials from Tucker Carlson Tonight, the program has aired fewer total ad spots and breaks. The show has also relied more heavily on network promos and public service announcements, while some of the remaining advertisers have aired longer commercials. (MyPillow, run by Trump-supporting CEO Mike Lindell, has run multiple two-minute spots since the boycott.)
Regarding the lighter ad load, a Fox News spokesperson told Contemptor that the "channel usually has lighter ad during the holiday period between Christmas and the first few weeks of the New Year. Ad loads pick up towards the end of the month."
Previously, Fox News told this outlet that all advertisers had re-expressed their ads to other programs on the network and that no revenue had been lost by the channel.