Mark Steyn: Obama's 'Black Just Because His Father Happened To Be A British Subject Born In Colonial Kenya'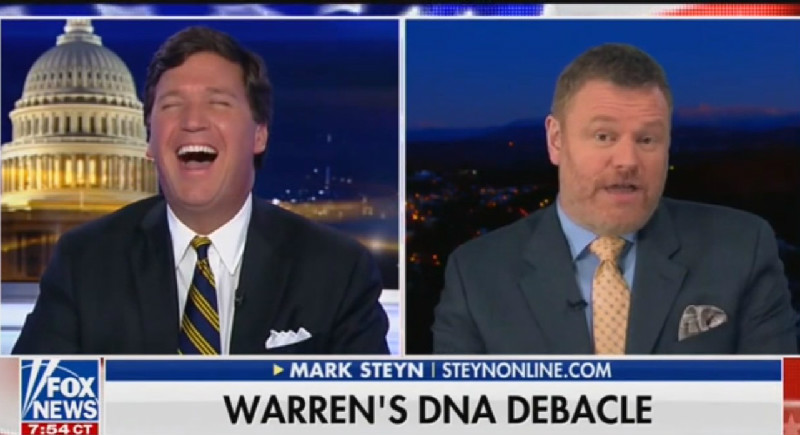 During a discussion on Sen. Elizabeth Warren's DNA test and identity politics on Monday night's Tucker Carlson Tonight, conservative commentator Mark Steyn turned the conversation towards former President Barack Obama.
Transcript
---
STEYN: And what is fascinating about this is that Elizabeth Warren was a test on the limits of Democrat identity politics because the recent presidential candidates have been sold on identity politics, but in rather strange ways. So Barack Obama is an African-American, but he has nothing to do with the black slave experience or civil rights.
TUCKER CARLSON (HOST): Right.
STEYN:  He is black just because his father happened to be a British subject born in colonial Kenya. Barack Obama was actually the first child of British subjects to be president. I believe since Andrew Jackson. So we tried to get himself in on the colonial thing. Obama said his step-grandfather in Indonesia had died fighting Dutch soldiers in the struggle for independence. In fact, it turned out that his step-grandfather died when he fell off a chair while changing the drapes. That is not a joke. That is actually true. That is how his stepgrandfather died.
CARLSON: [sustained laughter]
STEYN: And then you have Hillary Clinton who is running as a feminist icon and an end is only the candidate because she is the wife of the previous guy. And was given a Senate seat for standing by him when his intern's dress wound up in the crime lab. So in such a world, you cannot blame Elizabeth Warren for saying if Hillary can be a feminist icon, why can't I be the first Native American president? She was Harvard Law School's first woman of color. That's why it is not a family law thing, she actually was promoted as Harvard Law School's first woman of color, why should she not be America's first Native American president?
CARLSON: [more laughter]
STEYN: None of this identity politics — Joe Biden should run as the first transgender woman candidate and dared the Democrat electorate to call him on it!
CARLSON: That was my plan. I hope he doesn't get there first.
---
Watch the clip above, via Fox News.