Giuliani Claims Twitter Let Someone 'Invade' His Tweet Following Trump Treason Prank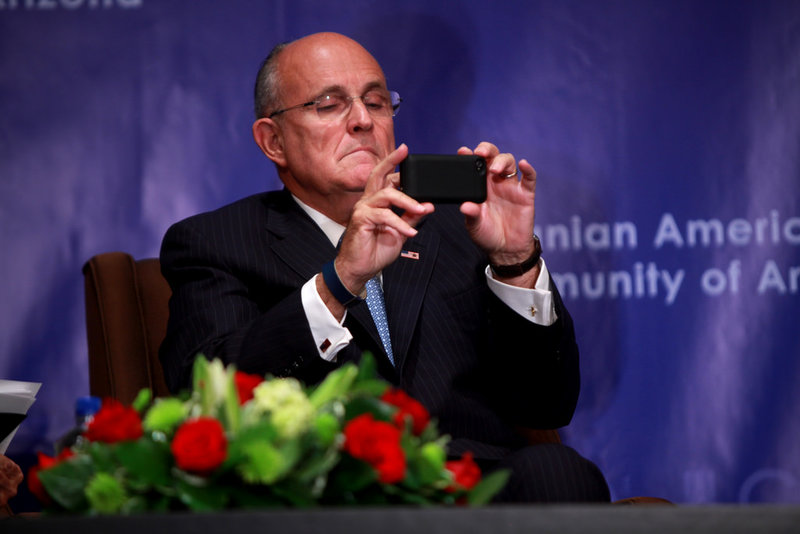 Rudy Giuliani has blamed Twitter for a prank that saw one of his tweets link to a site calling President Donald Trump a traitor. Giuliani accidentally created a hyperlink in a tweet on 30 November and a prankster jumped at the opportunity to use it.
"Twitter allowed someone to invade my text with a disgusting anti-President message. The same thing-period no space-occurred later and it didn't happen. Don't tell me they are not committed cardcarrying anti-Trumpers. Time Magazine also may fit that description. FAIRNESS PLEASE," Giuliani tweeted.
The former New York City mayor doesn't seem to fully understand how the social media platform works. Tweets cannot be 'invaded' by other users. Giuliani simply made a mistake that was easily exploited by someone with slightly more knowledge about how the internet works.
Interestingly, Giuliani chose to sub-tweet his original tweet rather than delete it and issue a correction, meaning the his Twitter pages still links to a site calling Trump a traitor. The prank was covered by the media and widely noticed by Twitter users, as we reported yesterday.
Time magazine covered the story and it seems Giuliani got the information from that story, despite the fact that the prank was reported in other media hours earlier and Twitter users told Giuliani directly about the link. Giuliani was slow to react and has apparently decided to leave the tweet up.
In an interesting development, the ad hoc website now features an external link to a Reddit thread discussing the recent news about Special Counsel Robert Mueller and former Trump campaign adviser Michael Flynn. In effect, Giuliani's tweet now connects to breaking news about the Russia probe.
Giuliani is far less adept at Twitter than his client, President Donald Trump. Giuliani has still not deleted a meaningless tweet saying "Kimim ° has f". It has been on his Twitter page since 30 November and he has made no attempt to clarify its meaning.