Chris Matthews Claims Hillary And Jimmy Carter Dislike Each Other During Bush Funeral Coverage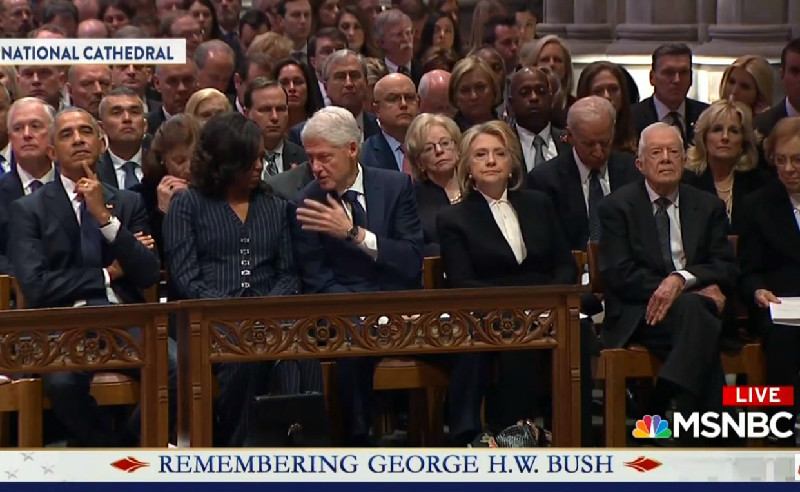 I regret to inform you that Chris Matthews is Chris Matthewsing again.
The longtime MSNBC personality has a habit of putting his foot in his mouth and spouting truly unfortunate things at the most inopportune times, such as saying "I forgot he was black tonight for an hour" after a Barack Obama speech or ogling Melania Trump for her "runway walk."
During MSNBC's special coverage of President George H.W. Bush's state funeral, the Hardball host made an odd and likely ill-advised observation about the relationship between a former president and first lady.
As the MSNBC hosts made small talk about the living presidents and their spouses sitting together at the National Cathedral, noting that the Obamas were seated next to the Trumps, Matthews noted that former First Lady and 2016 Democratic presidential nominee Hillary Clinton didn't appear to be getting along with President Jimmy Carter, who was sitting next to her.
"I don't think President Carter and Hillary Clinton like each other," he blurted out. "I'm just looking at that picture. It's strange, as if they're not anywhere near each other. I should not point that out, but it's fairly obvious."
Nicolle Wallace immediately jumped in to provide cover, discussing Michelle Obama and her intriguing friendship with former Republican President George W. Bush and how it "makes the country feel good to see these people relate to each other as humans." Then lead host Brian Williams addressed Matthews remarks.
"Chris, as you know, it's important to remember, President Carter is I think basically an introvert who found himself in a life of politics," Williams stated. "A man of great and towering faith. So I'm sure he is in the moment while sitting there."
Matthews, who worked for Carter as a speechwriter, responded that was "fair" and that based on his personal observations of Carter, it "wasn't natural for him like it is for other politicians."
Meanwhile, as for Matthews' suggestion that Carter and Hillary don't like each other, CBS News captured video of the two getting along pretty well, with the two laughing and talking.
3 of the 5 living presidents sit together at the funeral of former President George H.W. Bush.#Remembering41 #Bush41 https://t.co/iuYdkVE6me pic.twitter.com/A4mHzxj35b

— CBS This Morning (@CBSThisMorning) December 5, 2018
Watch the clip above, via MSNBC.