Chris Wallace: 'It Was As If A Chill Had Descended' When Trump Arrived At Bush Funeral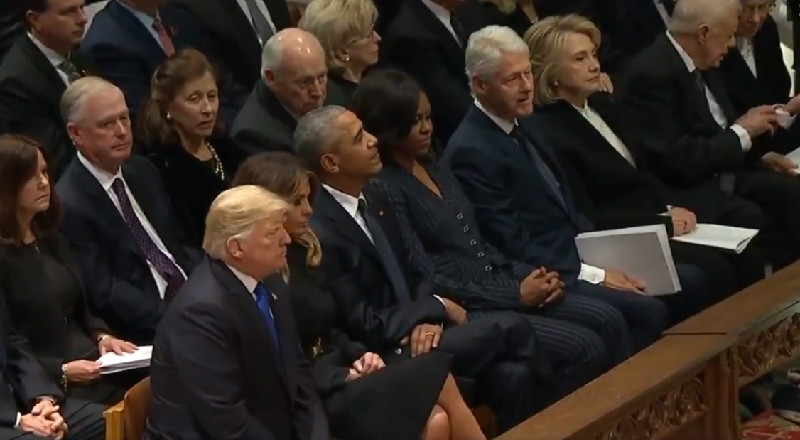 With three former presidential couples seated in the first row alongside President Donald Trump at President George H.W. Bush's funeral at the National Cathedral, there was obviously quite a bit of curiosity to how the current First Couple would be received by their predecessors, considering Trump pushing the birther conspiracy about one ex-president and calling for a former First Lady to be locked up.
Trump shakes Barack and Michelle Obama's hands when he arrives, does not greet Presidents Carter or Clinton. Via CBS. pic.twitter.com/ugpZQ6qsMK

— Kyle Griffin (@kylegriffin1) December 5, 2018
With President Trump briefly shaking hands with Barack and Michelle Obama while not greeting the Clintons upon his arrival, Fox News' Chris Wallace noted that there was a "chill" that fell upon that row the moment the president arrived while highlighting the bad blood between Trump and his predecessors.
"I have to say, I was struck when President Trump and Melania Trump came to the front row that it was as if a chill had descended on that front row," Wallace stated just before the funeral service started. "You had seen a lot of chatty talk between the Clintons and the Obamas, [and] the Carters."
To underscore that point, cameras caught the former presidents and first ladies laughing and smiling. Also, George W. Bush continued the little candy-giving club he has with Mrs. Obama when he made sure to take a moment to hand her a mint.
He continued, "When Donald Trump sat down, the greeting that he was given by Barack Obama and Michelle Obama was about as cool as it could have been. It seemed like they exchanged hello, good morning. That was it. At that point, they all stopped talking to each other."
Wallace went on to note that "there are some ill feelings among some of the people in the front row," which is just a bit of an understatement. Michelle Obama recently said that she will "never forgive" Trump for pushing birtherism to attack her husband. Meanwhile, Trump has continued to go after Hillary Clinton more than two years after defeating her, reveling in chants of "Lock her up!" at campaign rallies. And let us not forget that Trump once brought Bill Clinton's accusers to a presidential debate to distract from his own Access Hollywood scandal.
"I have to say that where you usually have a presidents' club and even people that ran against and maybe one beat the other, that doesn't seem to have been extended to President Trump when you see them sitting in that front row," Wallace concluded.
Watch the clip above, via Fox News.