Maddow Most-Watched Cable News Program Friday Night, Tucker Leads In Demo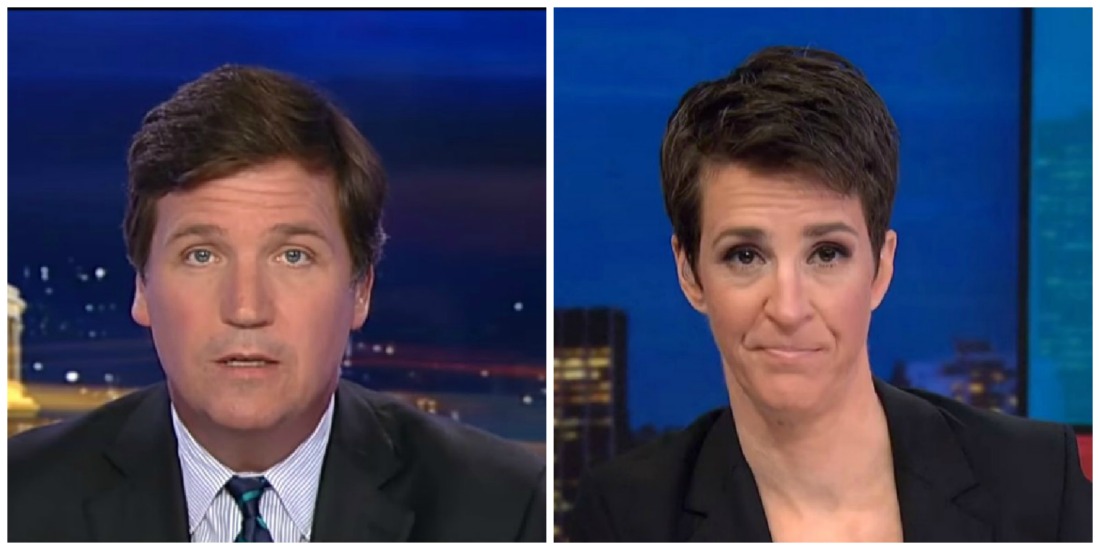 MSNBC's Rachel Maddow continued her ratings winning streak on Friday night when she pulled in more total viewers than any other show in cable. While topping the day in total viewership, she did take a back seat to Fox News in the key 25-54 demographic, placing second overall.
According to Nielsen, The Rachel Maddow Show averaged 2.965 million total viewers and 496,000 in the demo on Friday. Its 9 PM competitor, a special broadcast of Fox's Hannity, finished third overall in both total viewership (2.627 million) and the demographic (446,000).
FNC's Tucker Carlson Tonight led the way in the demo (529,000) and was the runner-up in total audience (2.678 million). Fox's The Five placed fourth in total viewership (2.578 million) while FNC's Special Report took fourth-place in the demo (417,000).
In the 8 PM to 11 PM hours, Fox News averaged 2.502 million viewers overall and 450,000 in the 25-54 metric. MSNBC pulled in 362,000 demo viewers and 2.158 million total viewers. CNN attracted a total audience of 1.137 million and 319,000 in the demo.
In the 9 AM to 5 PM daytime slot, Fox News nabbed a total viewership of 1.520 million and 270,000 in the key demo. CNN attracted 212,000 demo viewers and 862,000 million viewers overall. MSNBC drew 176,000 in the demo and 1.059 million total viewers.
The most-watched program on CNN was Anderson Cooper 360, which drew 1.180 million total viewers. The 10 PM broadcast of CNN Tonight led in the demo with 339,000.