Lou Dobbs Is Big Mad Over Jim Acosta, Says Trump Should Tell Judge To 'Go To Hell'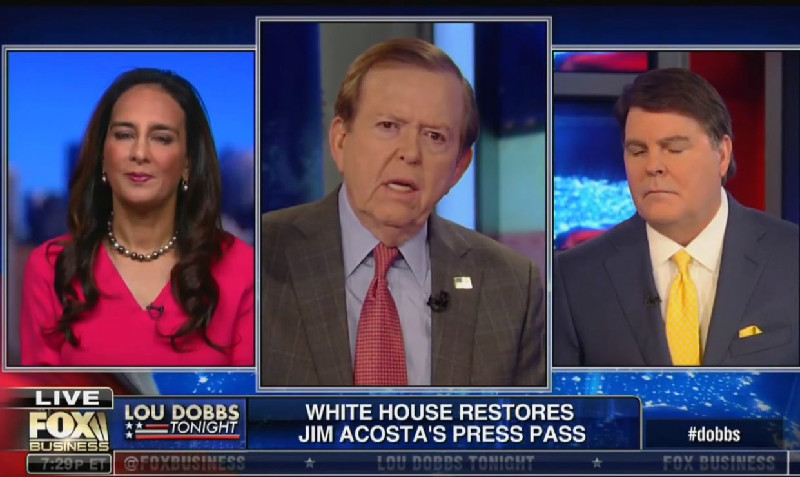 Lou Dobbs isn't taking his hero's capitulation very well tonight.
After the White House backed down in its fight over CNN correspondent Jim Acosta's press credentials and let the reporter know that it will fully restore his hard pass, the Fox Business host suggested to President Donald Trump that he should have told the federal judge that granted a temporary restraining order in favor of CNN to "go to hell."
During a discussion about the White House instructing Acosta and other reporters that they will be enforcing rules of decorum during press briefings and conferences moving forward, Dobbs found a bit of joy when Fox News legal analyst Gregg Jarrett said if he were press secretary he'd immediately cancel pressers if Acosta acted up, causing the reporter's colleagues to "tar and feather" him.
"Judge [Timothy] Kelly'd have a ball with that," Dobbs giggled before lashing out at at the judge, who ruled last week that the White House violated Acosta's due process rights when it pulled his credentials.
"Isn't there a time where you have to just tell a district court judge to go to hell?" the sycophantic host huffed. "Because the idea that you have to follow the dicta of a district court judge and create rules and you can't run the White House in the way it has been run since time immemorial."
Later on in the discussion, Jarrett backed Dobbs' position, exclaiming that Acosta doesn't have the "freedom to be obnoxious and rude" and "there's no freedom of the press to question the president."
"I would tell the judge go to hell and will let the Supreme Court decided if necessary," Jarrett added. Meanwhile, the employer of Dobbs and Jarrett backed CNN's lawsuit against the White House, stating that they "support a free press, access and open exchanges for the American people."
Watch the clip above, via Fox Business.