Kris Kobach Blows Up After CNN's Jeffrey Toobin Calls Him A Racist To His Face: 'Absolutely Outrageous'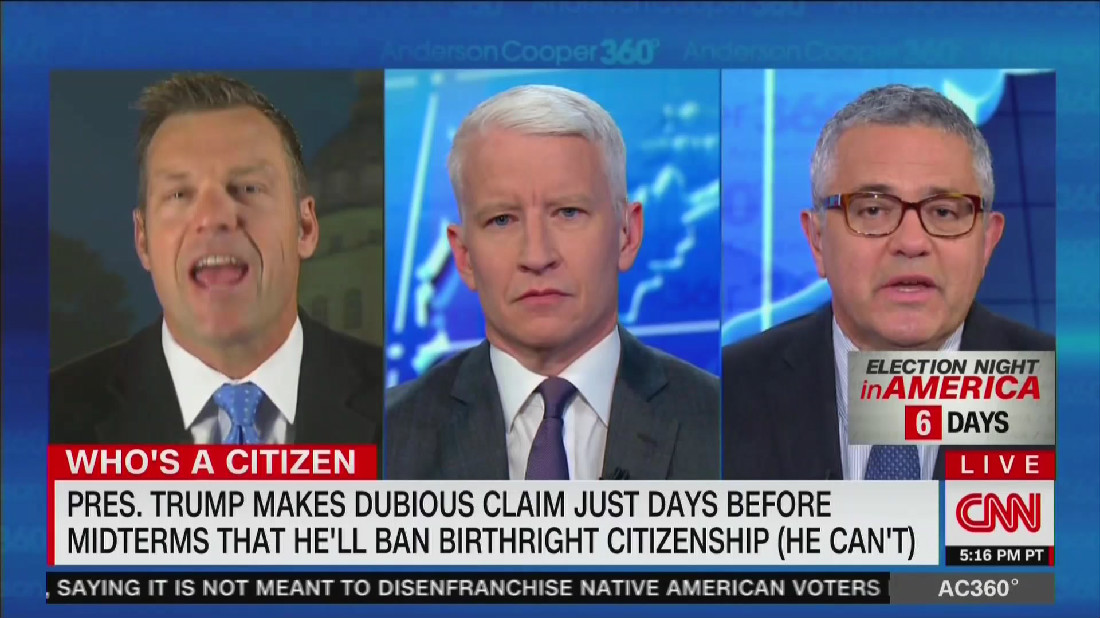 A CNN discussion got extremely tense when legal analyst Jeffrey Toobin went right after Kansas Secretary of State Kris Kobach and let him know what he thinks.
And what he thinks is that Kobach is a racist.
The two joined anchor Anderson Cooper on Wednesday night to initially talk about President Donald Trump's claim that he can essentially repeal the 14th Amendment and birthright citizenship via executive order. At one point, Cooper noted that critics would question whether Kobach was a legal scholar considering that the voter ID law he tried to get passed in Kansas was ruled unconstitutional and Kobach was ordered to take six hours of law classes.
Kobach defended his expertise by pointing out that he taught constitutional law while highlighting that the case was being appealed. "And the position that the judge took that a state cannot require voters to prove citizenship when they register, that argument was rejected by the ninth circuit about ten years ago," he added.
Toobin then jumped in, and things broke down quick.
"Kris has devoted his career to stopping black people and poor people from voting," the CNN analyst calmly stated. "I mean that's been your goal for decades."
"That's an outrageous accusation," Kobach snapped as Toobin said it was "completely true."
That is an absolutely outrageous accusation! So if you like photo I.D., you're trying to stop people of color from voting? That is outrageous," Kobach exclaimed.
"Absolutely," Toobin replied.
After the Kansas gubernatorial candidate asserted that photo ID laws were popular with people of color, Toobin stood by his characterization before telling the Republican was the reason his "phony voter suppression commission" was disbanded.
"It couldn't prove your claim that voter fraud is a problem in this country," Toobin declared. "Your problem is that some people vote for Democrats and you want to stop that by establishing voter requirements."
So, does Toobin regret calling Kobach a racist? It doesn't look like it.
Uh, yeah.

— Jeffrey Toobin (@JeffreyToobin) November 1, 2018
Watch the clip above, via CNN.