Tucker Warns That Don Lemon Is Advocating For 'Deportation' And 'Internment' Of White Men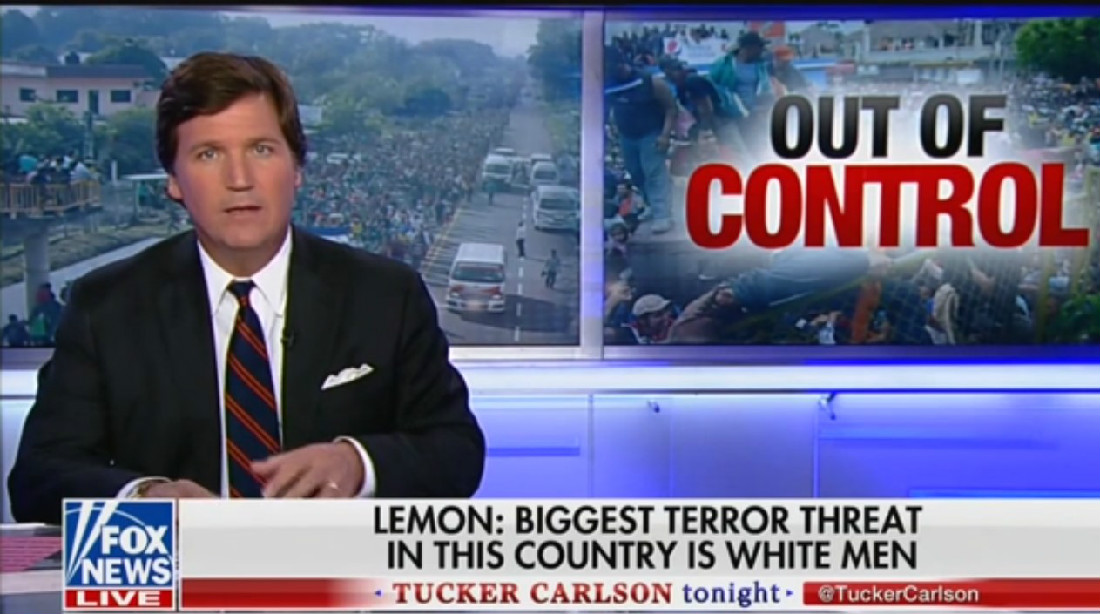 We are now on Day Two of conservative outrage towards CNN anchor Don Lemon over his remark that "the biggest terror threat in this country is white men." In case you missed it, Lemon framed his comment within the context of fearmongering over the Central American migrant caravan, saying we need to stop demonizing other people while noting that there isn't a "white guy ban" for those "radicalized by the right."
During Tucker Carlson's Fox News broadcast this evening, the conservative commentator suggested that the CNN host was advocating for the eradication of a whole racial group. After saying that "in the minds of the people making our country's rules, foreigners are always superior to Americans," Tucker played a clip of Lemon's remarks.
"We have to start doing something about them, Don Lemon says," the Fox host declared. "Keep in mind that he is talking about an entire racial group currently living in this country."
He continued, "What exactly does Don Lemon have in mind for, quote, them? Deportation? Internment camps? More affirmative action? It would be good to know. Some of us would like to tell our sons what's coming."
Tucker noted that CNN didn't reply back when he asked them "what they plan to, quote, start doing to this group of racially defective Americans," adding that perhaps Lemon will discuss further when he takes to the air later.
This isn't the first time that Carlson has claimed others were advocating for white genocide, a theory espoused largely by white nationalists claiming the white race is being destroyed by a global conspiracy. Roughly a month ago, Carlson spotlighted a professor over her tweet saying "a chorus of entitled white men" deserved "miserable deaths while feminists laugh," noting that she was an "advocate for genocide."
Watch the clip above, via Fox News.