Alan Dershowitz: Manafort 'Has To Cooperate About Everything,' 'Big Win' For Mueller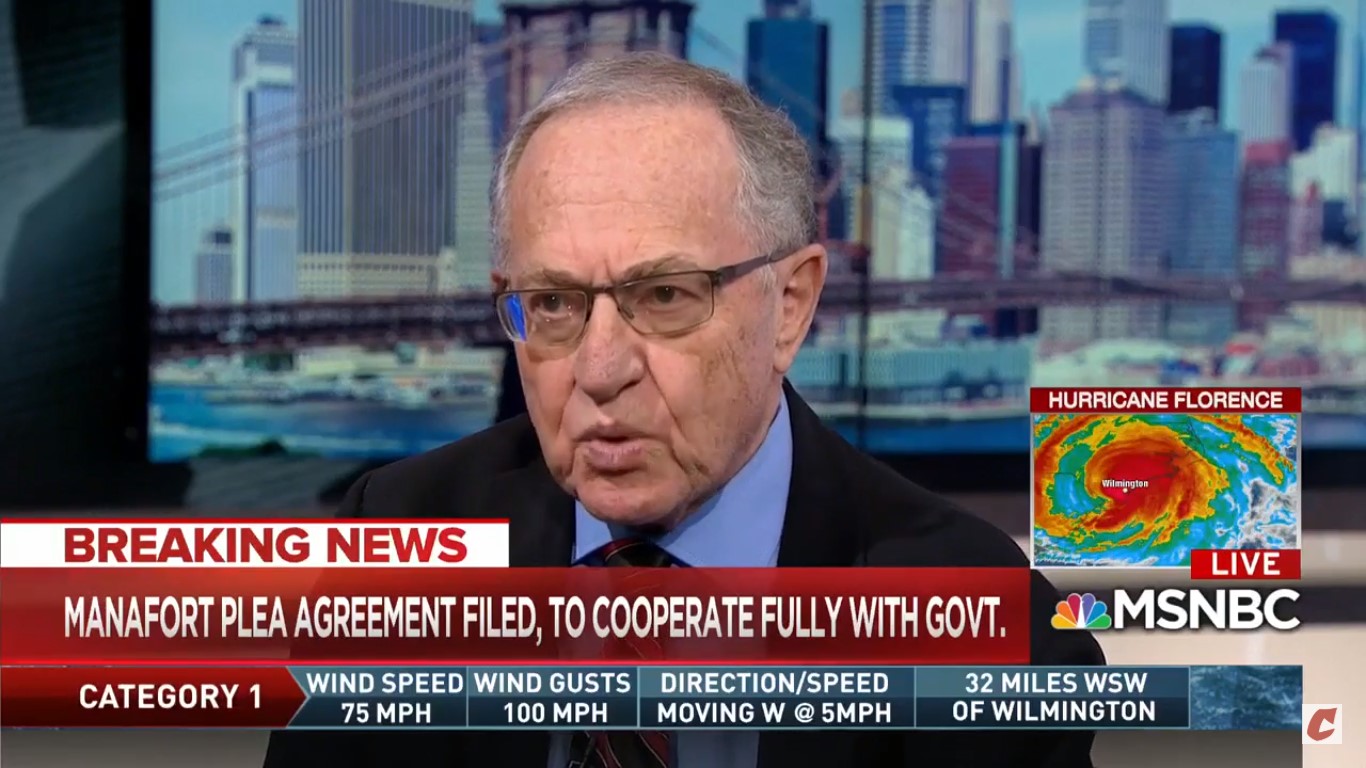 Instead of face a second trial, former Trump campaign chair Paul Manafort decided to cut a deal with Special Counsel Robert Mueller and cop a plea. In exchange for pleading guilty to reduced charges, Manafort has agreed to cooperate with the special counsel, though it was not immediately clear what information he will give prosecutors.
Manafort flipping would appear to be terrible and disconcerting news to President Donald Trump, who has previously lauded his ex-campaign chief's for battling the charges and strongly hinted that he would be willing to issue a pardon. One of the president's most reliable media defenders when it comes to the Russia probe agreed that things aren't looking for Trump.
Appearing on MSNBC this afternoon, famed lawyer and sad Martha's Vineyard resident Alan Dershowitz told host Steve Kornacki that the president "should be" alarmed over the Manafort plea deal.
While noting that it doesn't appear that Manafort could testify to anything that would lead to Trump's impeachment because he was only involved in the campaign, Dershowitz said that what Mueller is likely "looking for is self-corroborating information that can be used against Trump."
"They're not interested in Manafort for Manafort," he added. "Obviously, he's committed crimes but they are interested in him to see if they can, and this is him talking, if they can make him sing and then there's the possibility of him composing, elaborating on the story."
Dershowitz would further explain that "once he agrees to cooperate, he has to cooperate about everything." He also stated that Manafort was probably "hoping for a pardon and the question comes up did the president act too late to pardon" and that he doesn't think we'll see a pardon at this point.
At the end of the segment, the retired Harvard law professor reiterated that a pardon is not going to happen and that getting Manafort to cooperate was a "big win" for the special counsel as it "opens up lots of doors that probably haven't been opened before."
Watch the clip above, via MSNBC.