Hannity Beats Maddow In Total Viewers Thursday, CNN Tops Primetime And Total Day Demo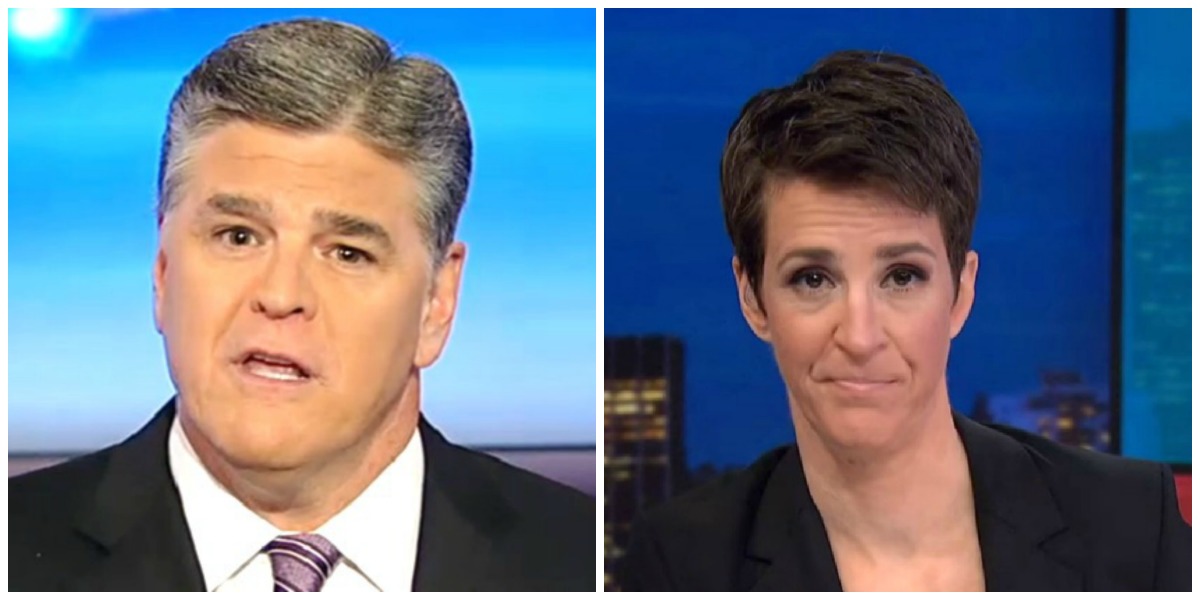 Fox News' Hannity put an end to The Rachel Maddow Show's winning streak as it beat the MSNBC program in total viewers for the first time this week Thursday. Meanwhile, powered by its Hurricane Florence coverage, CNN picked up a rare ratings victory as it was the top cable news network in the key 25-54 demographic.
According to Nielsen, CNN averaged 627,000 demo viewers and a total audience of 1.767 million during the 8 PM to 11 PM primetime hours. Fox News attracted a robust 3.249 million viewers overall and 620,000 in the key demo. MSNBC pulled in 2.813 million total viewers and 524,000 in the demographic.
In total day, CNN nabbed a demo audience of 335,000 and 1.066 million viewers overall. Fox News picked up a total audience of 1.668 million and 328,000 in the 25-54 metric. MSNBC captured 1.328 million total viewers and 245,000 in the demo.
Hannity regained the top spot as the most-watched program in cable news as it attracted 3.619 million total viewers. The Fox News show, however, placed second in the key demo (702,000) as Maddow — Hannity's 9 PM competitor — took first place (722,000) while finishing as the runner-up in total viewership (3.488 million).
Fox's Tucker Carlson Tonight featured a highly-anticipated clash between host Tucker Carlson and Stormy Daniels attorney Michael Avenatti. The trainwreck interview helped push Tucker's total viewership to 3.185 million, a 15 percent boost and good for third overall Thursday.
CNN's Anderson Cooper 360 place third in the key demo with 651,000, followed by CNN's Cuomo Prime Time with 646,000. Cooper was the most-watched CNN program of the day with 1.854 million total viewers.