Fox News' Primetime Lineup Devotes 21 Seconds To Cohen-Trump Tape Bombshell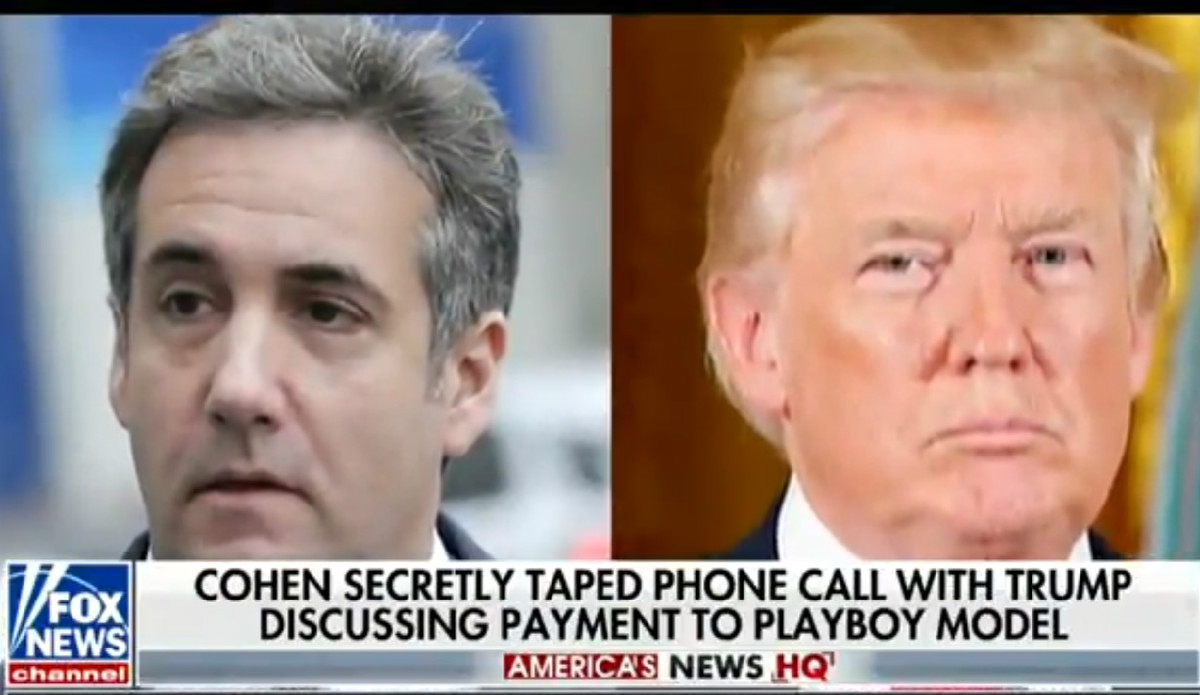 At the end of an already overstuffed news week that was largely marked by President Donald Trump's disastrous Helsinki and the White House's bumbling attempts to walk back the president's Russophilic remarks and assertions, we got the bombshell news that former Trump personal attorney Michael Cohen had secretly recorded Trump discussing a payment to ex-Playboy Playmate Karen McDougal two months before the 2016 election.
As you could imagine, this blew up the media cycle, especially since the president's lawyer, former New York City Mayor Rudy Giuliani, confirmed that the president was indeed secretly taped talking to Cohen about arranging a payment to McDougal, who has alleged she had a sexual affair with Trump more than a decade ago. Cable news was all over the story throughout the day and into the primetime hours. Well, almost all of cable news.
While Fox News provided a fair amount of coverage to the story during the afternoon hours, once the network hit its primetime block, the Cohen-Trump-lordy there are tapes story was virtually ignored.
Starting at 8 PM, Tucker Carlson Tonight didn't even bother to mention Cohen once, devoting no time to what was arguably the biggest story of the day. Host Tucker Carlson, who regularly dismisses major news events that are unfavorable to the president and conservatives, instead spent his time complaining about the "out of control" left, discussing "theybies" and UFOs, and delivering some more "exclusive reporting" on Tony Podesta being offered immunity to testify in the Mueller investigation.
We made a helpful montage for you of his segments:
The following hour, regular host Sean Hannity took the night off, handing the reins over to weekend host and fellow Trump acolyte Jeanine Pirro. Fresh off her explosive appearance on The View that resulted in host Whoopi Goldberg cussing her out after Pirro called the crew "cocksuckers," the special edition of Hannity spent much of its time commenting on the reaction by the media and liberals to Trump's Helsinki summit.
Fox News devoting tonight's Hannity to complaining about the reaction from Democrats and the media to Trump's meeting with Putin. Just look at this panel. pic.twitter.com/HlFwcpTqzC

— Contemptor (@TheContemptor) July 21, 2018
It was during Hannity, however, where the news of Cohen was briefly mentioned, but not by Pitto or her guests. In a brief report from Fox's America's News HQ, correspondent Jonathan Hunt devoted 21 seconds to the story, giving a bare-bones update. And that would be it when it came to Fox's primetime coverage of Cohen-Trump.
In the following hour, Jason Chaffetz filled in for regular host Laura Ingraham and completely brushed past the blockbuster, instead spending much of the time talking about the left's "meltdown" over Trump's press conference in Helsinki.
Reviewing the three major cable news networks' transcripts in TVEyes, we see that Fox News mentioned Cohen only once during its three-hour primetime block. CNN, which aired a special (The Trump Show: TV's New Reality) at 10 PM, brought Cohen up 16 times in their primetime programming and MSNBC also mentioned the ex-Trump lawyer 16 times.
Throughout Trump's presidency, Fox News has been described as providing an "alternate reality" to its viewers as it obsessively covers certain stories and narratives while ignoring others almost completely. It is hard to argue with that assertion when we see their highly-rated weeknight block act as if a major news story doesn't exist, weeks after it virtually ignored Scott Pruitt's resignation.
Fox News may not like being described as presenting an alternate reality to its viewers, but as long as we continue to witness instances like Friday night, it will be tough for them to deny the assertion.
Watch the one brief mention above, via Fox News.