Carter Page Dodges When Jake Tapper Asks If He Established Relationships With Russian Officials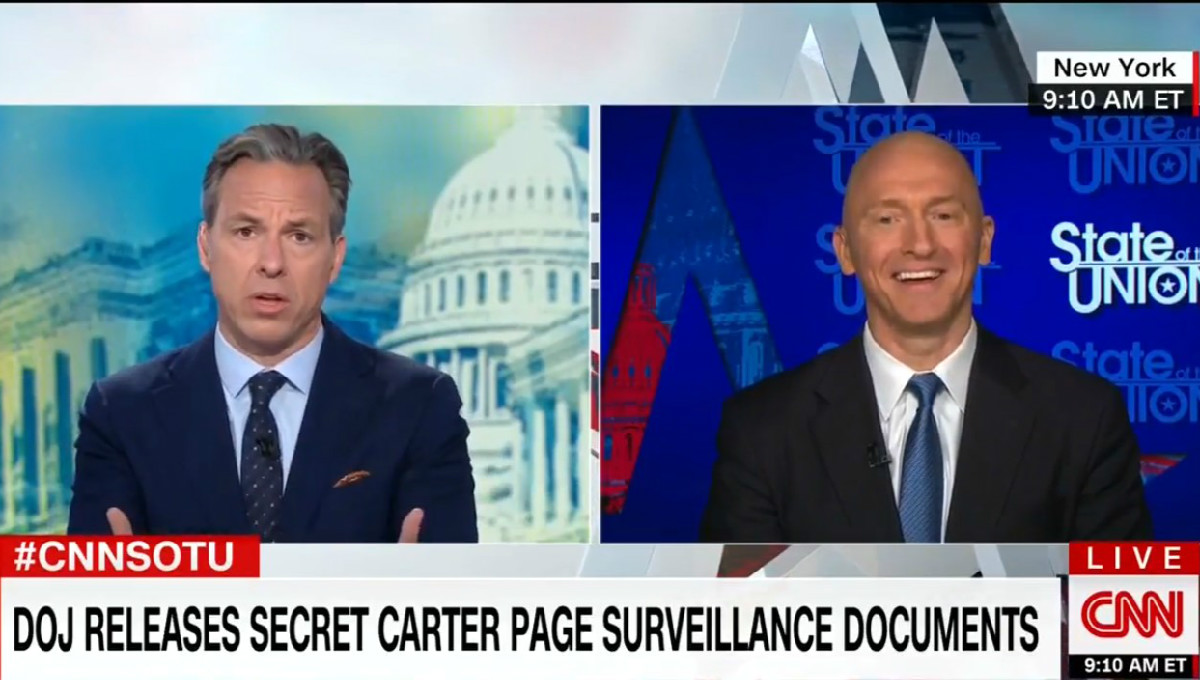 Following the Saturday night release of the FISA application and several renewals the FBI used to wiretap and surveil one-time Trump campaign advisor Carter Page, Page appeared on CNN's State of the Union to discuss the documents with anchor Jake Tapper.
And, much as we've seen in his past television interviews, Page came off as shifty and defensive, especially when pressed on his relationships with Russian government officials.
As Page kept calling it "spin" when Tapper pressed him on his past assertions that he was an informal advisor, the CNN host pushed the ex-Trump campaign aide to provide a direct answer regarding the FBI's claims that Page had established relationships with Russian intelligence and government officials.
"You're telling me they pulled that out of thin air, you have no relationships with Russian government officials?" Tapper asked. "You've already told me and this audience that you were an informal adviser to the Kremlin in 2013 and have relationships with government officials, right?"
Page responded by saying they need to "see what they are referring to" before deflecting and stating that the American intelligence community citing Russian propaganda to claim that Russia was influencing American elections was like "the pot calling the kettle black."
"I'm asking you a straight question," Tapper shot back. "Do you have relationships with Russian government officials? I can tell you I don't but then again you lived in Russia, you're an academic and worked in energy in Russia and went there in 2016 to speak at the commencement address. Do you have relationships with Russian government officials?"
Page would eventually point out that he had never spoken with the officials specifically highlighted in the FISA application and renewals before making an odd detour by explaining that he had never met Kellyanne Conway during the election.
Again, Tapper tried to get an actual answer from Page over whether or not he had any relationships with Russian officials during the campaign and additionally wanted to know if he spoke with any Russians about gathering dirt on Hillary Clinton or lifting sanctions against Russia. Page, with a beatific grin pasted on his face, gave another roundabout response in which he claimed that he may have had a "loose conversation" about sanctions but never talked about Clinton.
Watch the clip above, via CNN.