Adam Schiff Chastises Republicans After Trump Capitulates To Putin: 'You Are Complicit In This'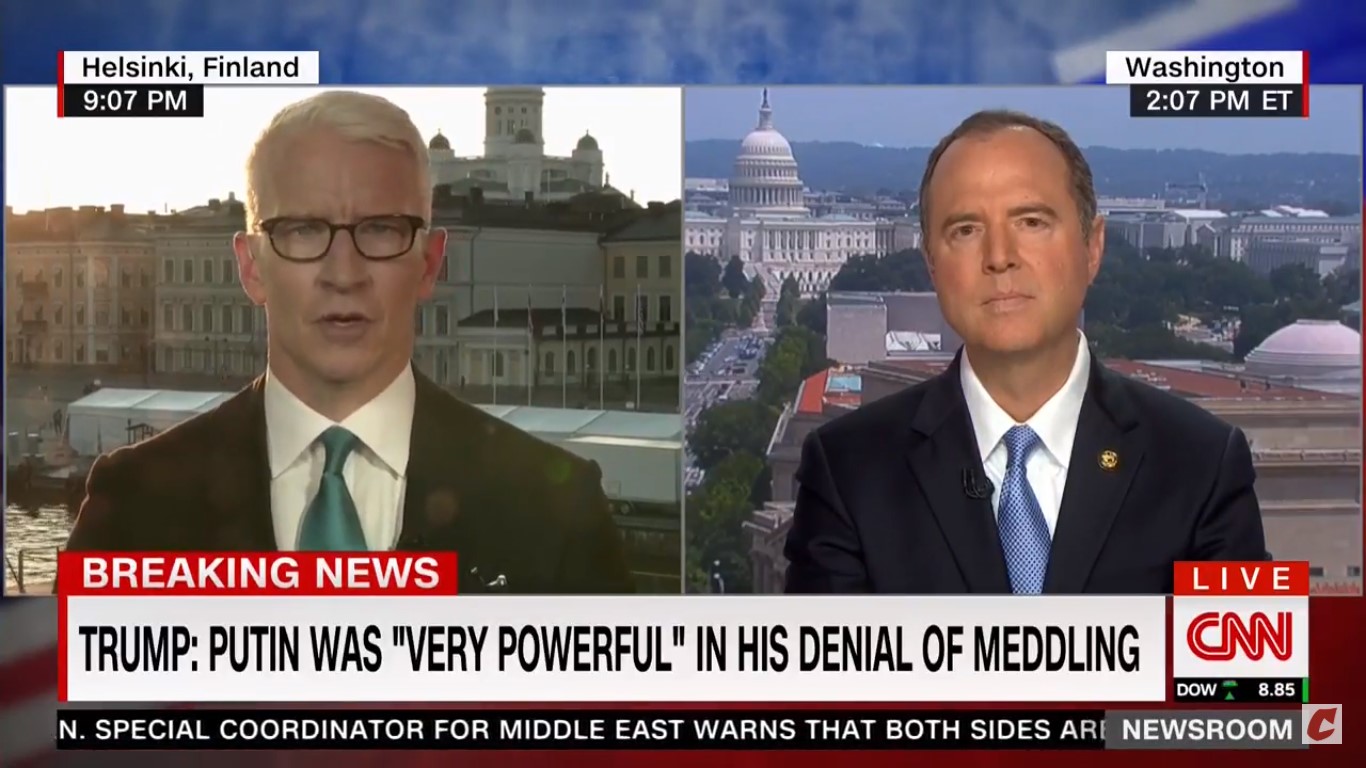 While the Republican reaction in Washington to President Trump's shameful joint press conference with Russian President Vladimir Putin ranged from strong admonishment to mild disappointment to Trump did fine, the ranking member of the House Intelligence Committee tore into the GOP for largely standing by as the president destroys America's reputation abroad.
Speaking to CNN's Anderson Cooper, Rep. Adam Schiff (D-CA) was asked if he felt that the president throwing America's intelligence community under the bus while standing next to Putin was a "new low."
"I found it just disgusting," Schiff responded. "This is probably, without a doubt, the most shameful and cowardly surrender of American interests in modern history."
Schiff went on to highlight that we saw the president prostrate himself in front of Putin while blaming America for its strained relationship with Russia rather than point out that Russia invaded Ukraine, poisoned individuals in American ally Great Britain and interfered in the 2016 election.
"To side with this former KGB officer over our own intelligence agency, it was a despicable act of betrayal of the United States," the Democratic lawmaker declared before going right after silent Republicans.
"I will say this about my GOP colleagues who are in hiding right now," Schiff exclaimed. "You are complicit in this. You are complicit in this betrayal of American interests in your silence as you hide. There is no avoiding responsibility for that. Every American should condemn what just happened. This was nothing less than a surrender to Russia of American interests."
Cooper went on to ask Schiff to expand on what he meant by Trump surrendering to Russia, noting that Trump supporters can make the case that the president didn't actually give anything away and this may have just been the case of an unpracticed politician making inarticulate remarks.
Being a politician is completely beside the point," Schiff responded. "He's the President of the United States. He's expected to know how to do his job. He is expected to articulate American values, supposed to defend his country."
He continued, "Instead in the same week in which his own Justice Department essentially indicted Russia for hacking Democratic institutions — hacking Democratic e-mails — he is asked about standing side by side with the Kremlin leader who ordered this intervention and says 'Why would Russia do it? I don't know whether to believe it. I don't know whether to believe my own intelligence industries.' That's a surrender of American interests."
Watch the clip above, via CNN.