GOP Rep. Darrell Issa: 'Appropriate' For Trump To 'Cast Doubt' On Russian Meddling During Putin Presser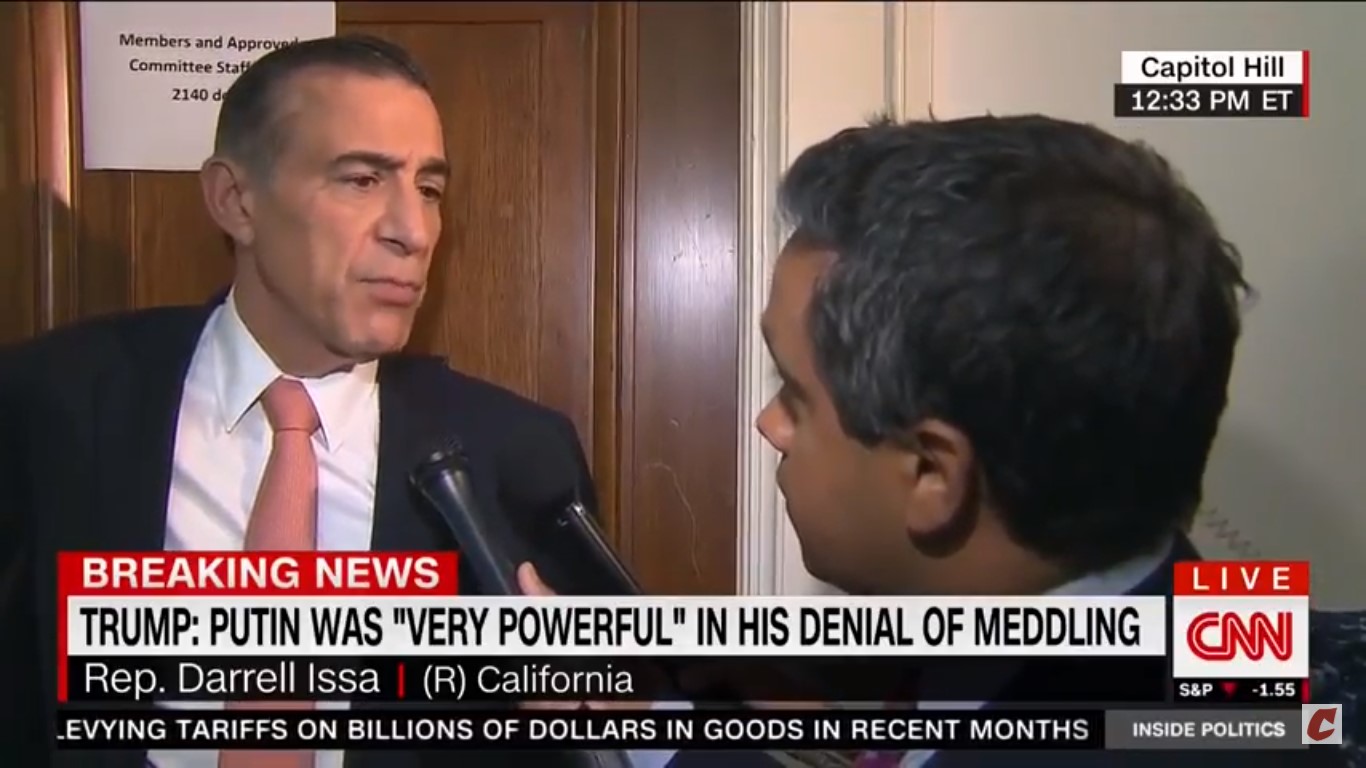 Not only does retiring Rep. Darrell Issa (R-CA) not have a problem with President Donald Trump's decision to openly question whether Russia meddled in the 2016 election while standing next to Russian President Vladimir Putin, he apparently thinks it was "appropriate" for Trump to "cast doubt" on the intelligence community's findings.
Approached by CNN's Manu Raju on Capitol Hill shortly after the Trump-Putin press conference that has been described as "disgraceful" and "treasonous," Issa was asked what his reaction was to the "president throwing cold water on the U.S. intelligence community's assessment that Russia was behind the interference in the U.S. elections?"
The California Republican immediately claimed that it was at the Peter Strzok Congressional hearing/show trial that the FBI revealed itself to be untrustworthy before agreeing with Trump's comments.
"So for the president to cast doubt is not unreasonable," Issa said. "At the same time, we take those charges seriously and so I personally would neither rule in nor rule out the validity of a very interesting and odd-timed indictment of people who can never be brought to justice."
He continued, "And for whom there's even a question of how do we know? did we use spy technique in order to find out? Did we hack them in order to find out who they were? So I think for the president to cast doubt is appropriate."
Raju followed up by asking the Republican lawmaker if he meant it was OK to cast doubt on the American intelligence community, leading Issa to state it was fair to question the validity of any number of these things. He did note that Putin is someone not to be trusted and is an "evil man."
"So you're okay on the world stage the President of the United States not calling out U.S. election interference and not calling for the extradition of those 12 Russians who were indicted by the Mueller probe?" Raju pressed Issa.
The congressman responded by saying it is "absurd" to call for the extradition of Russian spies before complaining that the Mueller investigation has been going on for over a year and there hasn't been a "shred of evidence" that there was collusion between the Trump campaign and Russia.
Following the interview, anchor Anderson Cooper told Raju that it appeared that Issa was "speaking out of both sides of his mouth" there.
Watch the clip above, via CNN.