Have We Seen The Last Of Joy Reid?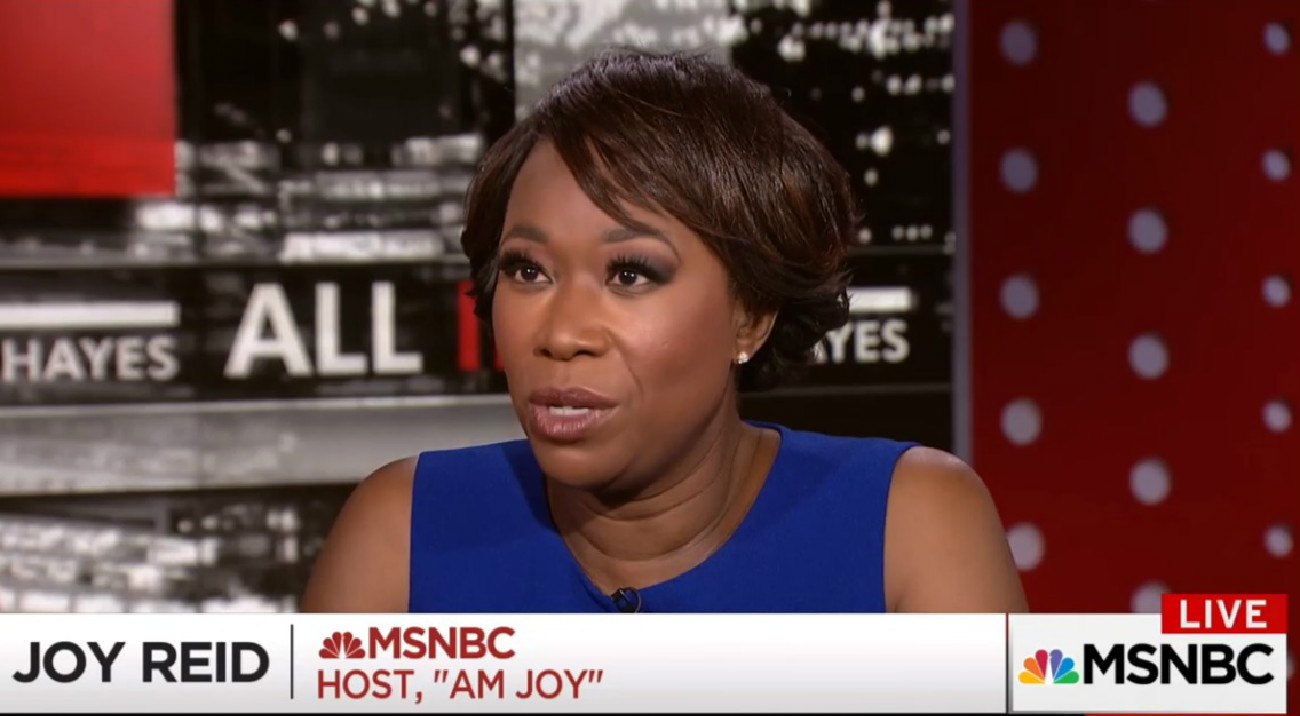 Late Thursday might, The Daily Beast published a report that essentially put the nail in the coffin of MSNBC host and #Resistance hero Joy Reid's claims that her now-defunct blog, The Reid Report, was hacked. When held up to scrutiny, the methodology used by Reid's cyber-security expert Jonathan Nichols fell apart.
Just to catch you up, Mediaite reported on a number of old homophobic blog posts that Reid purportedly wrote around a decade ago. These posts were different than the ones that were found last year that Reid apologized for in December. In this instance, Reid claimed that her blog had been hacked, she was in contact with law enforcement to look into the matter, and she working with a cyber-security expert to .
After the Internet Archive responded and said they "found nothing to indicate tampering or hacking of the Wayback Machine versions" of Reid's blog, Nichols released a statement that declared there was "significant evidence" that her blog was "compromised." He also stated that there appeared to be "screenshot manipulation with the intent to tarnish Ms. Reid's character."
As the Beast noted, one of Nichols' assertions — that certain posts which had been recently circulated were fabricated screenshots — was debunked as the posts he claimed weren't anywhere to be found in the Internet Archive did, in fact, exist.
"Further searching on the Internet Archive turned up the posts for all six of the screenshots Nichols described as fakes, including the one about Eddie Murphy. The Internet Archive's records indicate they were retrieved and stored between 2006 and 2009. And all six are exactly as they appear in the screenshots. A random check of other screenshots attributed to the blog produced the same result: none of the images are faked or doctored."
When presented with the error in his methodology, Nichols told the Beast that he'd "become aware of some methodology issues" and he was "looking to resolve the discrepancy."
Additional assertions Nichols made in his report — a report that Contemptor had reviewed earlier in the week — also failed to hold up to scrutiny. Furthermore, the Daily Beast also found at least one contemporaneous reference to one of the disputed posts.
We reached out the Nichols for comment but did not hear back prior to publication.
Meanwhile, Caleb Ecarma, the Mediaite reporter who first broke this story, gave Contemptor the following comment regarding the Beast's story:
"The Beast's report was thorough and poked holes in Joy Reid's hole littered claim. At this point, it's up to Reid to provide sound evidence supporting her increasingly flimsy hacking claim. If not, then this scandal is arguably as bad as lying about riding in a helicopter that was shot down over Iraq."
While Reid's attorney has said that the FBI is investigating "potential criminal activities" surrounding Reid's blog and online accounts, this Beast report is extremely damning. And one wonders if this is the final straw for MSNBC when it comes to Reid.
So far, the network has stood by Reid, but that support hasn't exactly been full-throated. After the Internet Archive pushed back against Reid's claims, it was hours before the network provided the media with Nichols' statement, and they didn't offer their own in conjunction. The following day, a network source stated that Reid would remain on the air while they let the law enforcement process play itself out.
Considering Reid seemingly hired a lawyer and security consultant on her own and without the network's direct involvement, and MSNBC has shown lukewarm support at best for Reid, will the network decide before Reid's Saturday broadcast to pull the plug on her? After Reid's security expert couldn't credibly support his initial claims that Reid was the victim of a hack, can MSNBC allow her to go on the air this weekend?
There is an argument to be made that these posts shouldn't be that big of a deal. The thing is, there has been a whole lot of advancement on LGBT issues in the past decade or so, It wasn't that long ago when the majority of the country opposed same-sex marriage. A number of center-left and liberal folks have evolved on these issues in the past few years. Reid could very well be one of those who has become more progressive on LGBT matters.
But that is no longer what's at play here. She claimed that her blog was hacked and that she didn't write those posts that look pretty bad when viewed through today's progressive lens. Reid needs to show unequivocally that her blog was hacked. And if she can't? Well, one would think she would quietly go away for a while.
We reached out to Reid and MSNBC for this piece but did not hear back prior to publication.
UPDATE: On Friday morning, a network source told Contemptor that Reid would be hosting AM Joy this weekend.