North Carolina's 'Bathroom Bill' Governor Heading For Re-Election Defeat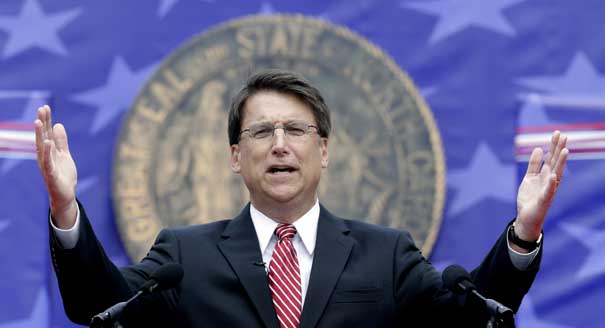 North Carolina's Republican Governor Pat McCrory is heading for defeat in his attempt to win re-election. A new poll shows McCrory 9 points behind his Democratic challenger Roy Cooper. Polling averages show Cooper about 8 points ahead of the incumbent.
The news comes as presidential polling shows a dead heat in North Carolina. The state is normally reliably red but Donald Trump has put the state in play for the Democrats. North Carolina is one of several red states that could turn blue in November. South Carolina and Georgia are also trending blue in an unprecedented change in traditional party loyalty.
McCrory became a national and international figure when he introduced HB2 – the so-called 'bathroom bill' that gutted the state's ability to pass anti-discrimination laws. A majority of North Carolina voters disapprove of the law and the bad publicity the state earned as a result of it. McCrory's failing electoral fortunes are a direct result of the bathroom bill.
North Carolina had elected mainly Democratic governors throughout its history. In 2012, McCrory won the governor's mansion when the incumbent Democratic declined to run. North Carolina's first Republican governor in 20 years may become a one term wonder. McCrory's anti-LGBT law is similar to one introduced by Indiana Governor Mike Pence, now Donald Trump's running mate. While opposition to transgender rights may cost McCrory his job, Pence has avoided a potentially embarrassing defeat by withdrawing from the Indiana governor's race to run for vice-president.
Barack Obama won North Carolina by just 0.3 percent in 2008 but otherwise the state has voted for Republicans in presidential elections since 1980. A Clinton victory would likely be by a similarly small margin. Trump is struggling in red states, forcing him to campaign in deep red Texas. No Republican has campaigned in Texas this close to the election in decades.