Katrina Pierson Claims Trump Hasn't Shifted On Immigration, He's Just "Changed The Words"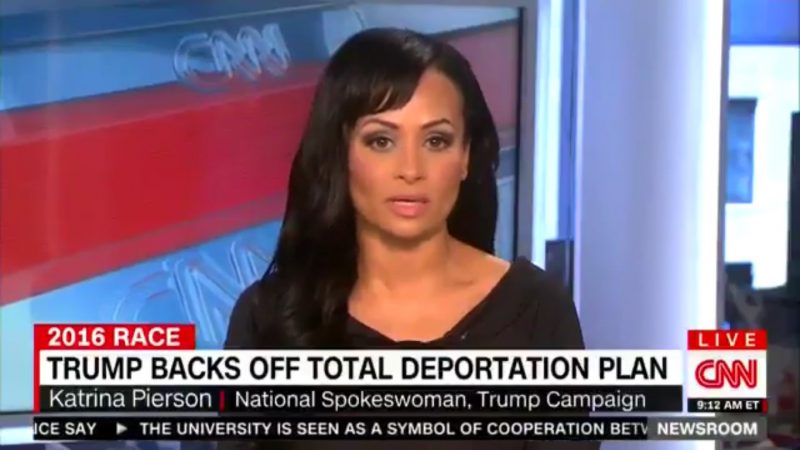 When we look back at this crazy-ass, unbelievable election season from a distance, we're going to wonder how the hell someone like Katrina Pierson was put into the position of national spokesperson for a major party's presidential candidate. And we will have no answers, just like now.
After being sidelined for a while by the Trump campaign — this feels like a Kellyanne Conway decision — after a series of just outright embarrassing television appearances, including diagnosing Hillary Clinton with a rare brain disorder, Pierson returned with a vengeance Thursday morning. Sent out to spin Trump's recent softening stance on immigration policy, Pierson showed up on CNN and provided a rather unique explanation.
See, when asked about the fact that Trump now seems open to allowing certain undocumented immigrants to stay in the US, when previously he said they all have to go, Pierson said that it was all just something to do with words.
"He hasn't changed his position on immigration," Pierson stated with a poker face. "He's changed the words that he is saying."
Immediately, panelist and CNN contributor Amanda Carpenter burst out in laughter. Seriously, what other reaction could one have? Pierson tried to explain her remark but only made it worse.
"What he has said from the beginning, he does not want to allow people to stay in this country illegally. He does want to build the wall but that's exactly what he said from the beginning."
Host Erica Hill pushed back on the Trump flack, throwing the GOP nominee's previous comments back in her face.
"Katrina, he has said get them out," Hill pointed out. "This is a shift, a flip-flop, whatever words you want to use."
Nope, nope, nope, according to Pierson. She wanted everyone to know that it is all just a difference on how things are being discussed NOW. A frustrated hill highlighted how Trump mentioned deportation force in the past and that this is a definite shift in the messaging from the campaign. Pierson's response:
"There is not a different message. He is using different words to give the message because everyone on the news is saying that he is a bigot and that he is a racist because of the words he uses. Now he is simply saying yes, we're going to follow the law, enforce the law, which ICE is immigration and customs, they do remove people from the country here illegally. He wants to start with the criminals."
Yep. It's all just different words. That's all. Or, to put it a different way, words have no meaning.
And, just like clockwork, the pro-Hillary Super PAC Correct the Record got a video clip of Pierson up, saying "changed the words." You can bet this will be used in an ad.
#Trump surrogate @KatrinaPierson: He hasn't changed his immigration position, he has changed the words he is saying. pic.twitter.com/CLkVeh2yP4

— Correct The Record (@CorrectRecord) August 25, 2016