Trump Introduces His Running Mate The Only Way He Knows How — By Talking About Himself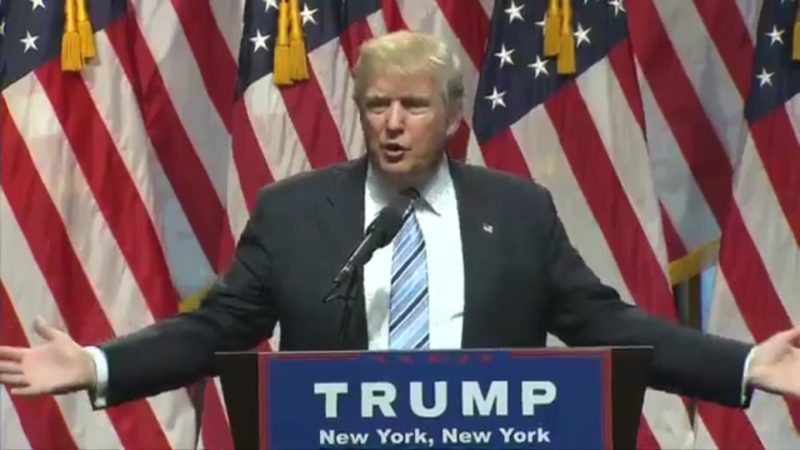 Even more than a year after he first announced he was running for the White House, presumptive GOP nominee Donald Trump still has to ability to shock us with his bizarre behavior.
A day after officially announcing Indiana Governor Mike Pence was his running mate (after attempts to back out of the decision failed), Trump introduced his VP pick to the world on Saturday at a joint event. Now, perhaps the word 'introduce' isn't entirely accurate. What he really did was ramble on about his favorite subject — himself — while virtually ignoring Pence, except for brief instances where he was mentioning how he beat the shit out of the Republican Party.
Seriously, for 28 full minutes, we got one of those rambling, stream of consciousness 'speeches' that the former reality TV star tends to deliver at rallies where the crowd is nice and agitated. Except this time around, not only is he appearing on stage with his Veep nominee for the first time, but this is to be Pence's official coronation as Trump's right-hand. This is supposed to be the joint ticket that wins the GOP the White House. And not only did Trump blow it, but he made Pence look more like a weak vanquished foe than a comrade-in-arms.
As Vox's Ezra Klein highlighted, the damage Trump did to Pence in this speech can't be overstated.
I can tell you that he rambled, but that doesn't do it justice. He spoke about Hillary Clinton, about himself, about his victories. He talked about crushing the Republican establishment in the primaries and talking to a buddy building plants in Mexico. He bragged about the beautiful hotel he is building in Washington, DC, and patted himself on the back for his foreign policy foresight over the years.
Every five minutes or so, he seemed to remember, just for a moment, like a man trying and failing to wake from a dream, that he was there to introduce Mike Pence, and so he would say something like, "now back to Mike Pence," but then he would slip back again, and tell another anecdote about himself.
Even when he did mention Pence, he often managed to say exactly the wrong thing. "One of the big reasons I chose Mike is party unity, I have to be honest," Trump admitted midway through his speech, at the moment another candidate would have said "I chose Mike because he'll be a great president." Trump then segued into a riff on how thoroughly he had humiliated the Republican establishment in state after state. Thus he managed to turn Pence from a peace offering into a head on a pike, a warning to all who might come after.
When Trump finally stuck to Pence, at the end of his lengthy speech, he seemed robotic, bored, restless. He recited Pence's accomplishment like he was reading his Wikipedia page for the first time, inserting little snippets of meta-commentary and quick jabs as if to keep himself interested.
Even worse than his speech that only focused on himself, once Trump was done 'introducing' Pence, he then just left Pence up at the podium, all by his lonesome. He didn't follow the tradition of other candidates presenting their Veeps for the first time, whereas after the speech bringing the new running mate on, the presidential hopeful will stand beside or behind the wannabe VP to provide that dual shot. Nope. Trump couldn't even do that. He brought on Pence and exited the stage.
As you'd imagine, pundits, reporters, journalists and others all took turns mocking this disastrous ticket roll-out on social media.
Now playing at #TrumpPence: Rolling Stones "You can't always get what you want."
And now, Mike Pence.
Not making this up.

— Steve Marmel (@Marmel) July 16, 2016
Thus far about 5% of this has been about Pence.

— Rick Wilson (@TheRickWilson) July 16, 2016
Word cloud of this speech wouldn't have much "Mike" or "Pence."

— Ari Melber MSNBC (@AriMelber) July 16, 2016
He can barely stick with a Pence thought for more than five seconds.

— Nick Confessore (@nickconfessore) July 16, 2016
Pence watching Trump backstage pic.twitter.com/NlJuLzzHzj

— Sam Stein (@samsteinhp) July 16, 2016
He's having another "episode." Has Pence gone down the street for a beer?

— Charles P. Pierce (@ESQPolitics) July 16, 2016
Meanwhile, Pence waits backstage. pic.twitter.com/Ko3pHhxvK5

— Nick Confessore (@nickconfessore) July 16, 2016
Trump: In closing, Pence was bullied by the establishment into endorsing Cruz and he did a bad job of it. MIke Pence, everyone!

— Benjy Sarlin (@BenjySarlin) July 16, 2016
If you watch this using an UV light, you can see little pieces of Pence's soul shooting out of his body into the ether.

— David Corn (@DavidCornDC) July 16, 2016
And, to top it all off, the Trump campaign sent out invites to a Mike Pence welcome home rally for Saturday afternoon. The only problem — Donald Trump would not be with him. So, the campaign is sending out the VP pick, on the day he was introduced, on his own. Sounds about right.