Trump Spent Thursday Night Trying To Kick Mike Pence To The Curb As Veep Pick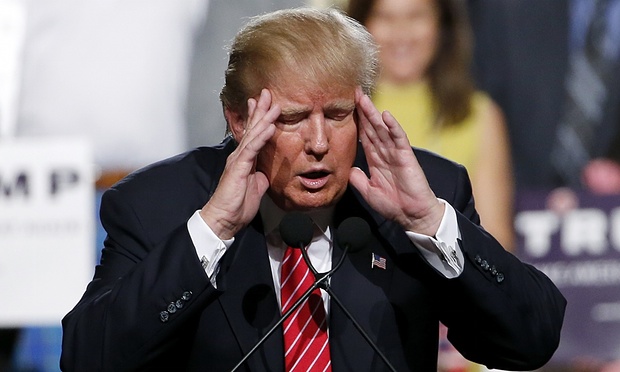 Based on reports by CNN and NBC News, presumptive Republican nominee Donald Trump had to be dragged kicking and screaming to the altar Thursday night.
After it was leaked to media outlets that Trump had chosen Indiana Governor Mike Pence as his running mate, and the campaign had announced a Friday morning event where the pick would be unveiled, Trump suddenly tweeted that the announcement had been postponed. Now, the real estate mogul used the Nice terror attack as the reason for the postponement, but it appears there was more at play.
According to CNN's Dana Bash, the former reality TV star spent hours on the phone with his advisers trying to figure a way to get out of the pick.
Scoop: @realDonaldTrump was so unsure about @mike_pence that around midnight last night he asked top aides if he could get out of it

— Dana Bash (@DanaBashCNN) July 15, 2016
In an appearance on CNN after she sent the tweet, Bash explained that while the campaign had pushed all along for Pence, Trump had wanted New Jersey Governor Chris Christie, the Jerome to his Morris Day, to be his running mate. Despite the fact that Pence had been flown into New York and was waiting around for the Friday morning unveiling, Trump wanted to kick him to the curb to take his faithful manservant.
NBC News's Kelly O'Donnell would later corroborate Bash's report:
Sources tell me @realDonaldTrump was on phone till midnight making calls, asking if he could change course on VP pick

— Kelly O'Donnell (@KellyO) July 15, 2016
Does that new info helps explain @realDonaldTrump comments that he had not made"final,final" decision?

— Kelly O'Donnell (@KellyO) July 15, 2016
This would explain why campaign manager Paul Manafort was on Fox News early Friday morning saying he thought Trump had made a decision, nut wasn't prepared to announce it yet.
.@PaulManafort: Trump is planning on making a VP announcement this weekendhttps://t.co/x0yrFWZOrH

— FOX & Friends (@foxandfriends) July 15, 2016
It would appear that Trump took note of what people were saying on Twitter about the Pence pick, as well as how it was playing out in traditional media. Seeing conservatives yawn at the choice, and loyal sycophant Ann Coulter state unequivocally that it was a mistake, obviously made him doubt the decision and freak out.
From the outside looking in, it certainly looks like his campaign team, led by Manafort, had to pressure him to stay the course, likely telling him that backing out would look even worse for him. It also shows once again that Trump is a 70-year-old third-grader, changing his mind with the slightest whim and letting his emotions run the show.