Time For CNN To Bite The Bullet, Cut Their Losses, And Fire Corey Lewandowski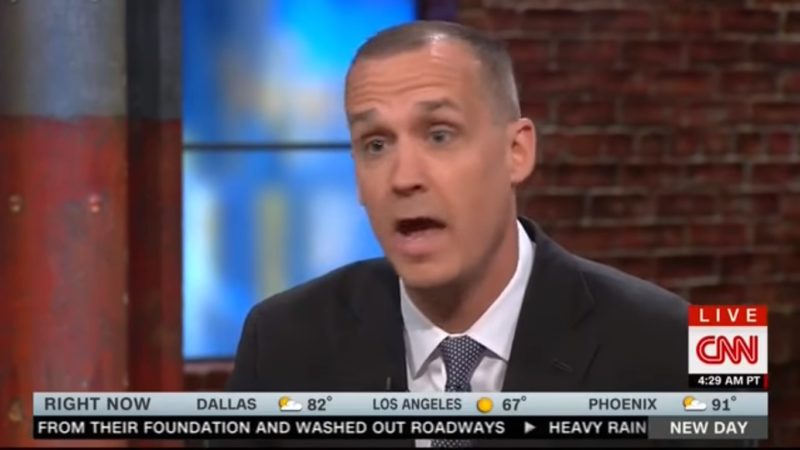 What was already criticized as a terrible hire by CNN now has the makings of something truly disastrous that the network likely needs to nip in the bud ASAP if it wants to retain whatever little journalistic credibility it currently has.
Last month, days after he was shitcanned by Donald Trump's campaign, Corey Lewandowski was brought on as a political commentator by CNN. Journalists and media critics excoriated the move, pointing to the former Trump campaign manager's combative relationship with the press (including CNN reporters) and the probability that he signed a non-disparagement agreement with Donald Trump.
Lo and behold, in his first TV appearance as a CNN employee, Lewandowski copped to signing a non-disclosure agreement and obfuscated when asked repeatedly if he was not allowed to disparage or criticize Trump. In his appearances since being hired, he's revealed himself to be nothing more than a loyal Trump shill, defending his former(?) boss at every opportunity, sometimes going to ridiculous lengths.
News that came out on Wednesday makes the network's decision to bring on Lewandowski as a paid employee look even worse. During his appearances on July 11th and 12th, CNN almost stealthily mentioned that Lewandowski was still receiving severance pay from the Trump campaign. Media Matters highlighted the mentions on Wednesday morning, noting that they could find not previous instances where his compensation from Trump was highlighted.
Yep, you read that right. As Lewandowski collects a paycheck from CNN, he's still receiving cash money from The Donald. But it gets worse from there.
Another story broke Wednesday afternoon concerning a a former Trump operative and the much-discussed confidentiality agreement. It appears that the real estate mogul is suing ex-campaign aide Sam Nunberg for $10 million, claiming Nunberg breached the agreement he signed with the notoriously litigious reality TV star. The suit uses a story from May regarding a shouting match between Lewandowski and spokesperson Hope Hicks, accusing Nunberg of being the source. (Nunberg hasn't been with the campaign since August 2015.)
Now, it isn't so much that Lewandowski is involved in the story at the heart of this lawsuit. (Though Nunberg's claim that Hicks and Corey were banging could be embarrassing.) No, the issue at the heart of this is that Trump is willing to push a lawsuit against a former employee only because he's willing to talk about the internal workings of the Trump campaign, whatever it is that he actually knows.
Look, if Trump is going to do that over a story about two campaign staffers arguing in the street, what makes us think that a former campaign manager will even think about giving a hint of insight about the Trump camp? In what world is he going to provide any bit of real inside knowledge? He isn't, especially when he's still cashing checks from the man.
The only, ONLY, leg CNN had to stand on regarding Lewandowski's hiring was that he could provide unique and special insight into the internal workings of the Trump campaign. It is clear as day now that he ain't ever gonna do that. And each passing day that Lewandowski appears on air, shilling for his idol, doing his little dance, makes CNN look worse and worse.