Fired Trump Campaign Manager Corey Lewandowski Hired By CNN Because Of Course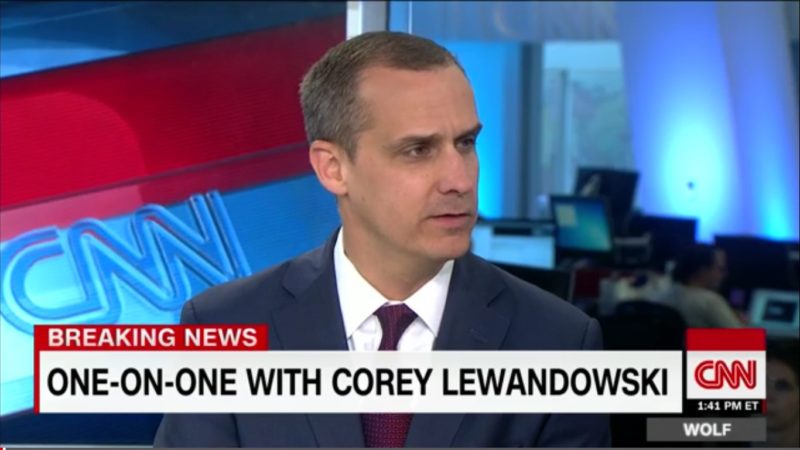 If you tend to quickly change the channel whenever CNN brings on one of its two full-time paid Trumpkins, Jeffrey Lord and Kayleigh McEnany, to blather on about how awesome Donald Trump is, start working out your remote thumb because you'll be channel-surfing even more in the near future.
According to Politico, the network has decided to hire recently fired Trump campaign manager Corey Lewandowski to be a political commentator. Yep, the buzz-cutted rageaholic that was arrested earlier this year for manhandling a reporter and who apparently browbeat women staffers on the regular has already got himself a sweet salaried TV gig after his 'Let Trump be Trump' campaign strategy led to embarrassingly low donations and cratering poll numbers.
But, hey, that's just how these things work in politics, especially for conservatives. You fuck up, prove yourself to be an abusive asshole, and you find yourself with a high-paying job in media as a result. Does CNN care that Lewandowski might be involved in helping skim campaign funds? No, no they don't. They just want more Trump-friendly voices ahead of the general election, and who better than one of the highest-profile campaign staffers in the primary.
This will now make three full-time paid CNN contributors whose sole job it is to shill for Trump on TV. That doesn't even count the numerous wannabe celebs, D-listers, opportunists and political novices (Andy Dean, Scottie Nell Hughes, Darrell Scott, Tana Goertz, Adriana Cohen, etc.) they scrounge up to blow the Trumpet on a daily basis. And every single time they bring one of them on, it makes for trainwreck television that should make any cable news producer or exec hang their heads in shame.
Except, of course, at CNN, where they apparently strive for this shit on the daily, if not hourly, basis. We still have more than four months of this shit to sit through, folks.