Trump Gets Feelings Hurt By Notorious RBG, Slams Her, Gets Smacked On Nose Again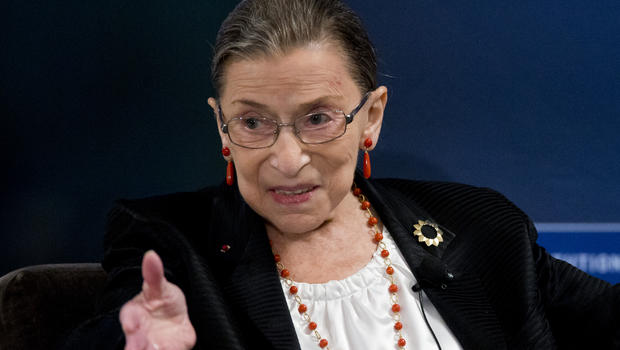 Over the weekend, Supreme Court Justice Ruth Bader Ginsburg did not mince words about her feelings regarding presumptive GOP nominee and self-proclaimed Law and Order Candidate Donald J. Trump. Speaking to the New York Times, Ginsburg said that she couldn't imagine a United States with Trump as president.
Well, as expected, the former reality TV star was going to let that slight go without firing back. The orange-hued ex-Wrestlemania participant gabbed on the phone to the Times Tuesday to bitch about how mean the Notorious RBG had been to him. In his opinion, she needs to find her way off the court for giving her personal opinions about a candidate.
"I think it's highly inappropriate that a United States Supreme Court judge gets involved in a political campaign, frankly," Mr. Trump said. "I think it's a disgrace to the court and I think she should apologize to the court. I couldn't believe it when I saw it."
He continued: "That she should be saying that? It's so beneath the court for her to be making statements like that. It only energizes my base even more. And I would hope that she would get off the court as soon as possible."
So, that's that, right? Someone came after Trump and he smacked 'em back, just like he always does, whether it's Lyin' Ted, Low Energy Jed, Crooked Hillary or Goofy Elizabeth AKA Pocahontas. Bing. Bang. Boom.
Uh, nope. In an already scheduled interview later in the day, the judge hit Trump right where it hurts — she called him out for being a fake billionaire.
"He is a faker," she said of the presumptive Republican presidential nominee, going point by point, as if presenting a legal brief. "He has no consistency about him. He says whatever comes into his head at the moment. He really has an ego. … How has he gotten away with not turning over his tax returns? The press seems to be very gentle with him on that."
If there are two things the Trumpster cannot stand, it's strong women and someone pointing out he's not as wealthy as he claims.
Responding to her latest remarks, Trump's campaign merely said that the real estate mogul was going through routine tax audits — that have apparently lasted for more than a decade — and he'd release the returns when the audit was finished. Mmmmmm-hmmmmmm.