Feel The Pivot! Trump's Dallas Shooting Statement Only Kinda Blames Obama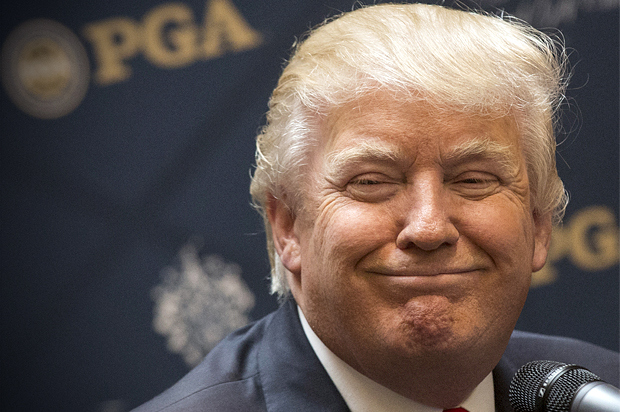 Perhaps learning from the extremely negative reaction to his Orlando shooting response last month, presumptive GOP nominee Donald Trump decided to take a more measured approach to the tragedy that occurred in Dallas. Rather than impetuously tweeting out overtly racist stream of consciousness, the former reality TV star listened to his campaign staff and sent out a carefully worded statement that still made sure to point the finger at Obama, without outright saying it.
Below is the statement Trump's campaign sent out Friday morning, after declaring that his day's speech had been canceled (emphasis added):
Last night's horrific execution-style shootings of 12 Dallas law enforcement officers – five of whom were killed and seven wounded – is an attack on our country. It is a coordinated, premeditated assault on the men and women who keep us safe.
We must restore law and order. We must restore the confidence of our people to be safe and secure in their homes and on the street.
The senseless, tragic deaths of two motorists in Louisiana and Minnesota reminds us how much more needs to be done.
This morning I offer my thoughts and prayers for all of the victims' families, and we pray for our brave police officers and first responders who risk their lives to protect us every single day.
Our nation has become too divided. Too many Americans feel like they've lost hope. Crime is harming too many citizens. Racial tensions have gotten worse, not better. This isn't the American Dream we all want for our children.
This is a time, perhaps more than ever, for strong leadership, love and compassion. We will pull through these tragedies.
Instead of hyperbolically blurting out that this is all the President's fault for getting all the black folks riled up against Whitey, Trump instead let a staff member write up an almost professional sounding piece that only skirts around the edge. PIVOT!
Another thing that should be noted in this statement is, despite being written and edited by his staff, it still gets one major detail extremely wrong. In an attempt to sympathize and relate regarding the recent shooting deaths of Alton Sterling and Philando Castile, Trump lists them both as "motorists." Of course, only Castile was in a car at the time of his death. Sterling was killed by police in a parking lot and was not in a vehicle at any time during his confrontation with the cops.
Y'know, you'd think they could at least get that simple thing right, which just goes to show that Trump and his entire campaign have no clue what happened in either instance.