New York Post Very Responsibly Claims America Is Now In The Middle Of A Race War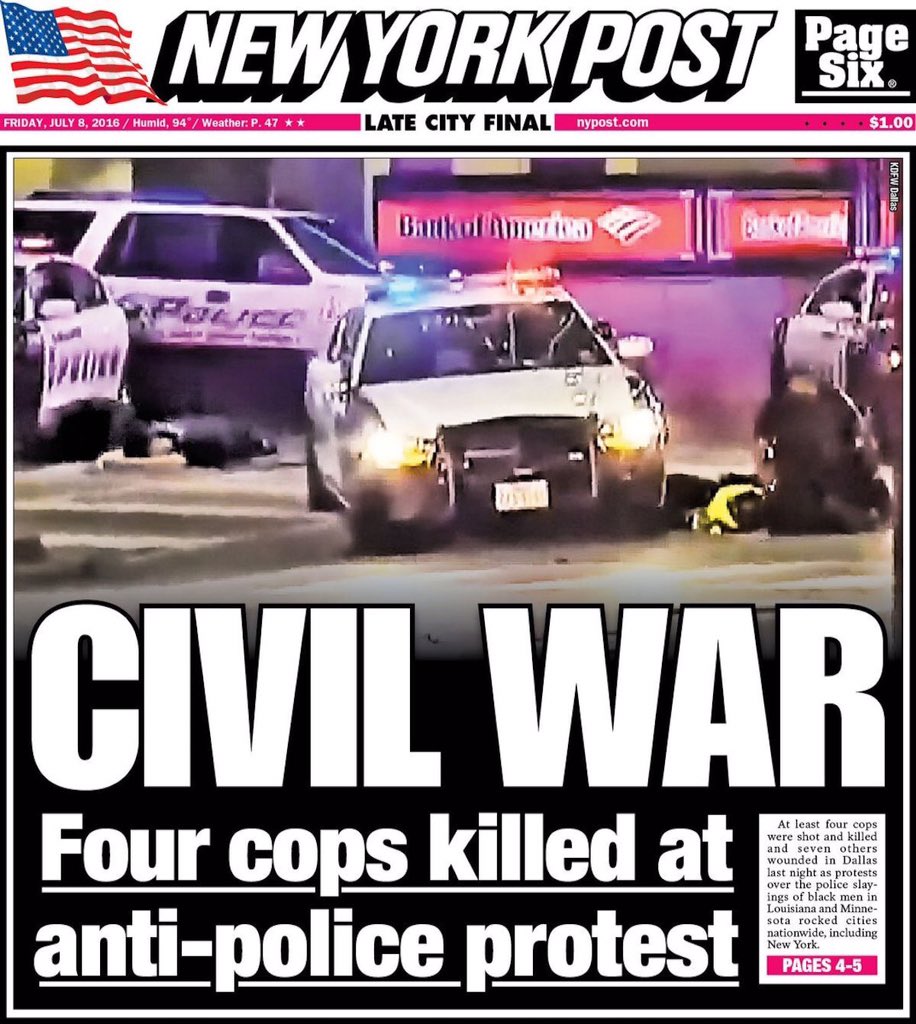 In the neverending battle between the New York Daily News and New York Post regarding who can find the bottom of the barrel, the Post decidedly took the lead with its Friday cover.
The two tabloids are always in a competition over who can release the most tawdry, distasteful, sensationalist cover. Earlier this week, the left-leaning NYDN seemingly took first first place with its repellent and exploitative use of Alton Sterling's dying, bloodied body. However, the Post got its chance to jump to the front after a sniper (or snipers) shot 12 police officers in Dallas, killing five.
Friday's cover: 4 cops killed in Dallas tragedy https://t.co/NpUskqqtLt pic.twitter.com/tlqx0P721y

— New York Post (@nypost) July 8, 2016
Yup. Nothing like a little shoutout to racial separatists and white nationalists to start your morning.
As one would imagine, there was quite a reaction online to the Post's stoking of racial animosity.
Not helping, @nypost pic.twitter.com/9vBrcRbJmZ

— Lachlan Markay (@lachlan) July 8, 2016
The @nypost's cover is beyond absurd; it is morally perverse and factually wrong. https://t.co/d4tjG9bfP3

— Marc Ambinder (@marcambinder) July 8, 2016
.@nypost responded to the #Dallas shootings in the WORST possible way. Disgusting. https://t.co/kOGvKJl5L3 pic.twitter.com/TZV66FuBIP

— Alexis Kleinman (@alexiskleinman) July 8, 2016
A profoundly stupid and irresponsible cover chosen for the New York Post this morning. #Dallas #shameonyou pic.twitter.com/MaWJ8XMcEW

— Amarnath Amarasingam (@AmarAmarasingam) July 8, 2016
When Murdoch's @NYPost editors made this, they didn't know:
– who shooters were
– how many
– motivations#Dallas pic.twitter.com/nShwpyn7CQ

— The Daily Rupert (@TheMurdochTimes) July 8, 2016
Anyway, Friday and the rest of the weekend should be a hoot, especially after the Dallas PD's press conference where the police chief stated that the sniper they ended up killing said that he was doing this so he could kill white people, specifically white police officers.
Yeah, I'm sure everyone, especially those in the Conservative Entertainment Complex, will treat this story soberly and maturely.