Remember When Trump Said Sheldon Adelson Wanted To Make Marco Rubio His "Little Puppet?"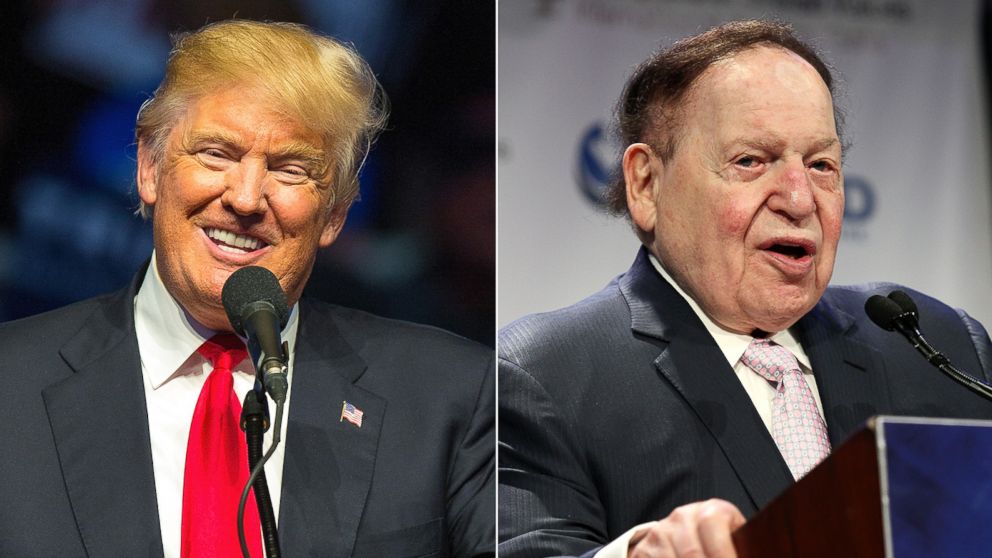 Over the weekend, the New York Times reported that mega-billionaire and weird looking toad creature Sheldon Adelson has decided to push all-in on a Donald Trump presidency. The Las Vegas casino magnate has apparently promised to spend upwards of $100 billion to help get Trump elected this November.
The casino magnate Sheldon G. Adelson told Donald J. Trump in a private meeting last week that he was willing to contribute more to help elect him than he has to any previous campaign, a sum that could exceed $100 million, according to two Republicans with direct knowledge of Mr. Adelson's commitment.
As significant, Mr. Adelson, a billionaire based in Las Vegas, has decided that he will significantly scale back his giving to congressional Republicans and direct most of his contributions to groups dedicated to Mr. Trump's campaign. The two Republicans familiar with Mr. Adelson's plans spoke anonymously because they were not authorized to discuss the matter publicly.
Mr. Adelson's pledge to Mr. Trump, the presumptive Republican presidential nominee, comes at an opportune time. Mr. Trump has relied on a mix of his own wealth and small-dollar contributions to finance his primary effort and lacks the sort of major donor network needed to sustain him in the general election. Mr. Trump has said that he may need $1 billion for the campaign but has only recently begun scheduling fund-raisers and hiring finance staff members. Many of the Republican Party's wealthiest contributors, including the billionaire brothers Charles G. and David H. Koch, have indicated they are unlikely to give to his candidacy.
What remains unclear is how Mr. Adelson plans to contribute his money to Mr. Trump. He will give the maximum allowed to Mr. Trump's campaign and the Republican National Committee, but to spend the amount he contemplates would require donating through a "super PAC," able to accept unlimited donations.
During the primary, Adelson contributed to GOP rival Ted Cruz's effort to become the Republican nominee, but was somewhat hush-hush about it. Now that the #NeverTrump movement is the fringe of the party rather than the consensus, Adelson has gotten aboard the Trump Train, and has apparently declared himself the conductor.
Now, besides the utter hypocrisy emanating from Trump regarding this, as he stated in the beginning that he would be totally self-funded and not beholden to billionaires and special interests, we also have the inconvenient little fact of his own words re: Adelson coming back to haunt him.
As MSNBC's Steve Benen pointed out on Monday, The Donald knocked both Marco Rubio and Adelson over the possibility that Adelson would get behind the Florida Senator's White House run.
The punch-line, however, is something Trump said on Twitter in October: "Sheldon Adelson is looking to give big dollars to [Sen. Marco Rubio] because he feels he can mold him into his perfect little puppet."
At the time, the Florida senator was receiving quite a bit of support from GOP mega-donors, and Adelson appeared to be on board with Team Rubio – a dynamic Trump was eager to mock. Indeed, the idea that the senator was part of a corrupt system in which wealthy interests buy candidates in order to make them "puppets" was at the heart of Trump's message.
The key word in that sentence, however, is "was."
…
Months of rhetoric about the corrupting influence of campaign contributions has been wiped away with amazing efficiency, and in the process, arguably the most compelling pillar of Trump's entire candidacy has been removed.
Sheldon Adelson is looking to give big dollars to Rubio because he feels he can mold him into his perfect little puppet. I agree!

— Donald J. Trump (@realDonaldTrump) October 13, 2015
So, who's' the "perfect little puppet" now?
Image via ABC News