Dirty Trickster Roger Stone Compares Trump's 'John Miller' Alias To Founding Fathers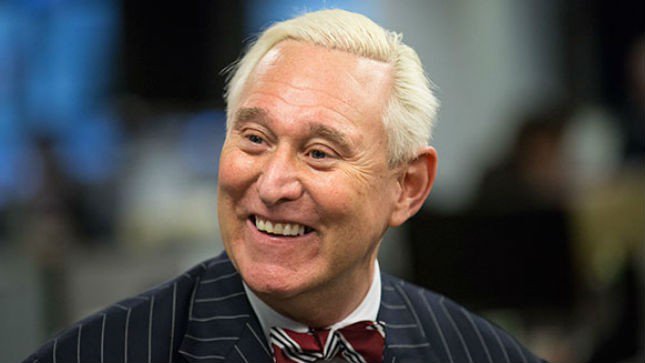 Late last week, presumptive GOP nominee and beauty pageant contestant mouth kisser Donald Trump was put on the defensive when a weird — even for Trump — story was highlighted by the Washington Post. It was revealed that in the 1980s and 90s, Trump posed as his own PR guy in order to give scoops to the gossip mags. This was something he admitted to in a 1990 court case and a 1991 People magazine article. Despite it being old news, the Post ran it because they were provided with a tape recording of one of his conversations (and because it was so very, very, very strange).
Anyway, even though The Donald copped to doing this shit back in the day, he decided to lie on Friday about it, and told NBC's TODAY that it wasn't him on the recording. (It clearly is him.) He doubled down on that assertion to the New York Times' Maureen Dowd later that day, but has otherwise been very quiet about it since, preferring to (ironically) let his flacks due to damage control with the press. When it was brought up during a Post phone interview, he went silent and then hung up. Trump's not even tweeted about it, which tells you everything.
While the Trump camp has admirably tried to sell the line that it isn't Trump, one of Trump's closest allies pointed out that the tape of John Miller is indeed the real estate mogul. However, at the same time, he said it made Trump the equivalent of the Founding Fathers, which is, of course, insane.
Per Buzzfeed's Nathan McDermott, renowned dirty trickster Roger Stone, who previously worked for Trump's campaign and now serves as sort of an independent oppo research hitman, was on Breitbart radio Saturday and said this about the John Miller alias:
"They focus on whether or not Donald Trump may or may not have posed as a public relations man in order to get his spin and his side of the story," Stone said of the Washington Post story, "This is ridiculous. James Madison, John Adams, Alexander Hamilton — they all wrote under pseudonyms, they all had things they wanted to say, and they wrote under pseudonyms."
"Trump wanted to get his spin and his side of the story, so he handled the press call himself, probably because he didn't want to pay a public relations expert. What difference does it make?"
Yep, totally the same thing John Adams and Alexander Hamilton were doing, as I'm sure they needed to pose as different people to talk about banging celebrities and models back in the day.
Meanwhile, Trump keeps pretending that he doesn't have any association with Stone, which Stone rightly labels as deniability. It has been suspected that Stone is doing Trump's dirty work in terms of getting inflammatory and false stories in tabloids about Trump's opponents. Also, Stone's latest book about the Clintons serves as a template for the Republican candidate's attacks on Hillary.
And, while Trump now acts like he has no idea what Stone is up to or that he wrote the book, back in October, he was singing a different tune:
The latest book on Hillary—Wow, a really tough one! http://t.co/ZCoUAutdI8 @RogerJStoneJr

— Donald J. Trump (@realDonaldTrump) October 14, 2015