Bernie Sanders' Wife Comes To Hillary's Defense After Donald Trump's "Evil" Comment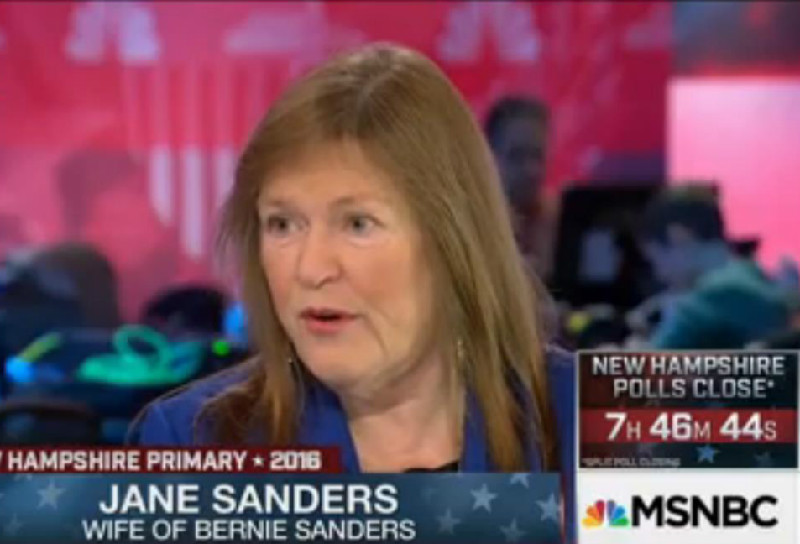 On the morning of New Hampshire's primary election, GOP Presidential candidate and meat-sweat scented candle Donald Trump appeared on his favorite program and unofficial Super PAC, Morning Joe, to have his ass kissed and soak up some more free air time. Because Morning Joe is a hard news program, co-host Mika Brzezinski played a word association game with The Donald, asking him to describe his opponents in the race.
When they got to Hillary Clinton, Trump said the Democratic White House hopeful was "in a certain way, evil." Meanwhile, he called her husband "intelligent," revealing the casual misogyny behind his campaign and general worldview.
Later on in the day, MSNBC's Andrea Mitchell, who appeared on Morning Joe while Trump was interviewed, spoke with Bernie Sanders wife, Jane, during the broadcast of Andrea Mitchell Reports. Bringing up Trump's comments about Hillary to Mrs. Sanders, Mitchell wanted to know if the Sanders' felt the same about the ex-First Lady, considering the increasingly heated Democratic race.
"Absolutely not. We've known Bill and Hillary for years. And we're not friends, but colleagues. That has no place in politics today, I don't think, Bernie doesn't think. We think that the most important thing we can do is to lead by example, to treat others as we would have them treat us, and I hope that it is reciprocal. We're not going to play that game."
Even though the Democratic side of this election has gotten a bit more intense as Bernie has closed the gap on Hillary in the polls, and Sanders has resorted to "artful smears" of Clinton over her Wall Street ties, his camp isn't going to go so far as to call her evil or embrace those that do. Especially when it comes from Trump, who Sanders sees as the very face of the oligarchy he wants to take down.
Trump's remarks about Hillary come shortly after he called fellow GOP candidate Ted Cruz a pussy during a campaign rally. While the mainstream media has latched onto the narrative that the celebrity billionaire has toned down his cartoonish rhetoric since losing in Iowa, that has hardly been the case. At Saturday night's debate and during his Sunday show appearances, he wholeheartedly endorsed the use of torture on terror suspects and enemy combatants. He's also said that he'd tell Syrian refugee children they can't come here to their faces.
But, yeah, Donald has presented a much more mature face over the past week or so. Sure.