After Ted Nugent Goes On Anti-Semitic Rant, White Supremacists Flock To His Defense
After sticking to mostly dog-whistling over the past few years, over-the-hill rocker turned conservative commentator Ted Nugent went full Stormfront on Monday by posting anti-Semitic images and rants to his Facebook page. The Nuge was attempting to make the case that efforts to enact gun safety laws in this country were all a part of a Jewish conspiracy to take away Americans' firearms. All he really did was expose the fact that he truly is a white nationalist.
Nugent began trending on social media Monday afternoon when he plucked this image from the depths of the white supremacy sewer.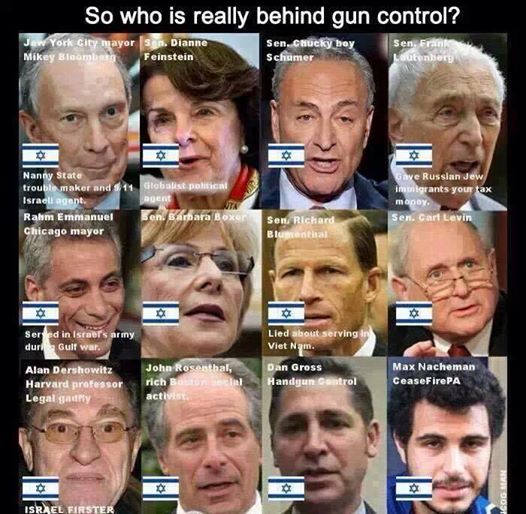 Notice how Michael Bloomberg is referred to as "Jew York City mayor," Chuck Schumer is called "Chucky boy" and deceased Senator Frank Lautenberg is criticized for giving "Russian Jew immigrants" money. The image was accompanied by a trademark Nuge rant where he chastised all the freedom haters for trying to take away our guns.
"Know these punks. They hate freedom, they hate good over evil, they would deny us the basic human right to self defense & to KEEP & BEAR ARMS while many of them have tax paid hired ARMED security! Know them well. Tell every1 you know how evil they are. Let us raise maximum hell to shut them down!"
As first reported by Media Matters, this image was posted to the racist message board Stormfront in 2014 during a conversation about Jews using the "holohoax" to push their insidious gun control measures. Because, as we all know, Jews want to control the entire world.
After Teddy Boy started catching shit for the bigoted post, he doubled down by posting a photo of Jews being rounded up during the Holocaust. It was accompanied by the caption, "Soulless sheep to the slaughter. Not me."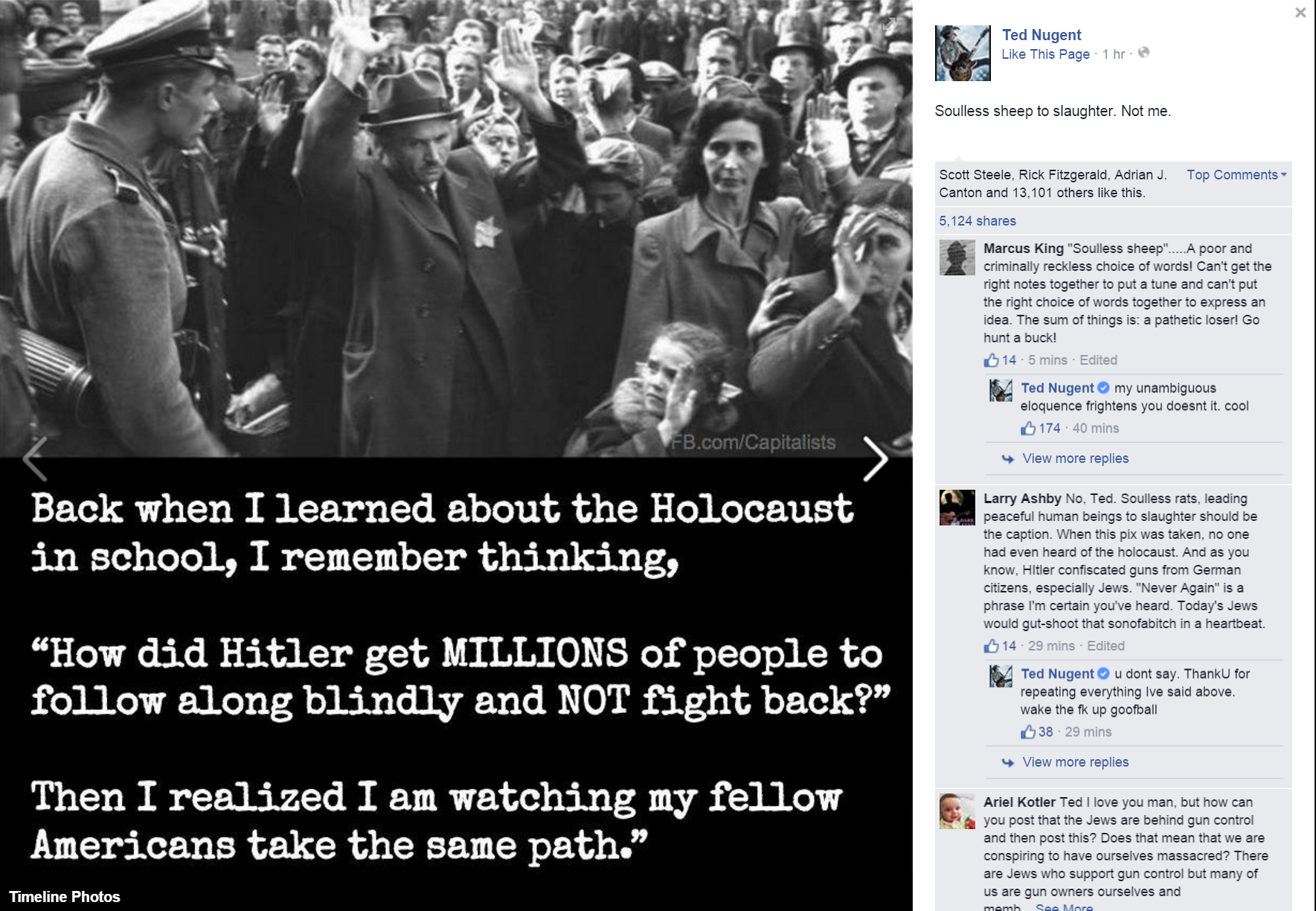 Throughout the day on Monday, the 'alt-right' crowd began expressing their support for Nugent, claiming he was just speaking the truth and pulling the veil off the whole conspiracy. Interestingly, many of these users are Donald Trump supporters who also claim there is a 'white genocide' currently under way. More concerning is the fact that some of these users have thousands of followers, showing that they aren't nearly as 'fringe' as we would hope.
It is telling that Evangelicals are more concerned about Ted Nugent naming the Jew than the Jews themselves who are pushing gun control

— The Reactionary Tree (@ReactionaryTree) February 9, 2016
Ted Nugent named the Jew and the machine responds. https://t.co/thayw4rsEk

— Anglo von Trapp (@88_Odalist) February 8, 2016
#IstandWithTed https://t.co/16rSLjnCGC #antiwhite #whitegenocide #waronwhites #zionism #jewish

— Angelo John Gage (@AngeloJohnGage) February 8, 2016
Ted Nugent, Mel Gibson, Henry Ford, Joe Sobran, Charles Lindbergh, Joe McCarthy, George Patton, and many more r brave men who told the truth

— Rusty Mason (@rustymason7777) February 9, 2016
Ted Nugent (Musician) just used his Facebook to expose the Jews behind gun control. The ADL is already on it. pic.twitter.com/PI67UseZze

— Nick Joseph (@camefromempires) February 8, 2016
If Jews would've been armed In Nazi Germany, they may have been outgunned. However, they would have had a FIGHTING Chance! Ted Nugent #2A

— Amy Mek (@AmyMek) February 9, 2016
Ted Nugent is right jews have always been behind gun control it has always been anti-white #IstandwithTed pic.twitter.com/QWsLefOFC8

— Bran mak Morn (@mak_morn2) February 9, 2016
He even got a mention from former KKK leader David Duke.
Rocker Ted Nugent blames Jews for gun control in anti-Semitic post https://t.co/nVczYYIfrl pic.twitter.com/z2RqTjSbeP

— David Duke (@DrDavidDuke) February 9, 2016
It should be noted that Nugent is a board member of the NRA. Apparently, blatant anti-Semitism is cool with them.