Mike Huckabee Says Screw It And Decides To Go Full Racist During Democratic Debate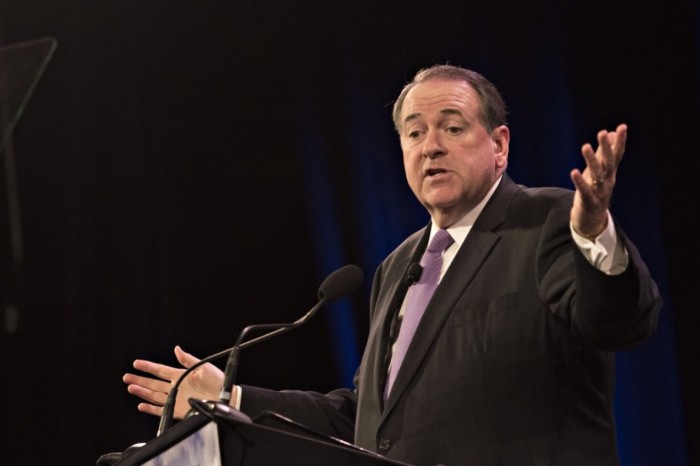 When you are stuck in the bottom tier of the national Republican polls, and your latest publicity stunt with an attention-seeking county clerk didn't quite shoot your numbers up like you hoped, I guess you'll do anything to try to appeal to the lowest common denominator known as the GOP base. While the first Democratic primary debate was moving along Tuesday night on CNN, current GOP Presidential candidate and former Ted Nugent bassist Mike Huckabee decided to say "fuck it" and just go full on racist on his Twitter account.
Apparently live-tweeting the debate, the Huckster first took issue with a question posed to the five Democrats regarding their feelings about the #BlackLivesMatter movement. In typical Huckabee fashion, he said that racism is not a skin problem but a sin problem and insisted that all lives matter. He also equated cops being shot and cars burning with protesters.
Black lives matter because ALL lives matter. Haven't we learned from history? #DemDebate

— Gov. Mike Huckabee (@GovMikeHuckabee) October 14, 2015
ALL lives matter. It's time we stop burning cars, shooting cops, & recognize that life is a gift from God. #DemDebate

— Gov. Mike Huckabee (@GovMikeHuckabee) October 14, 2015
Racism exists because we have a sin problem in America, not a skin problem. #DemDebate

— Gov. Mike Huckabee (@GovMikeHuckabee) October 14, 2015
Perhaps feeling in an especially white mood after that little tweetburst, Huck felt like it was time to toss out an Asian joke, because why the fuck not. I mean, it isn't like any minorities are going to vote for him anyway, so why not get frisky?  
I trust @BernieSanders with my tax dollars like I trust a North Korean chef with my labrador! #DemDebate

— Gov. Mike Huckabee (@GovMikeHuckabee) October 14, 2015
I mean, are you fucking serious? An Asian dog-cooking joke? Does he get his material from Borscht Belt comedians?
As you'd expect, the ex-Governor of Arkansas took heat right away from those on Twitter.
Hey it's me your friend Mike Huckabee from Facebook who never left our hometown & thinks Olive Garden is fancy. Anyway here's a racist joke.

— THE LEGO COUCH GUY (@ironghazi) October 14, 2015
It took Mike Huckabee 4 minutes to go from denouncing racism to tweeting something racist pic.twitter.com/AvpsovU5RO

— Political Line (@PoliticalLine) October 14, 2015
Can you believe Mike Huckabee's racist tweet? Who does he think he is? The Republican front runner?

— Damien Fahey (@DamienFahey) October 14, 2015
Aw, were you afraid we'd pick one of the debaters as tonight's Biggest Asshole? Don't fret, princess. https://t.co/STP0SkeVKk

— Patton Oswalt (@pattonoswalt) October 14, 2015
Congrats to Huckabee for winning Racist Asshole of the Week!