Donald Trump Crowns Himself King Of The GOP While Boehner And McConnell Are Shown The Door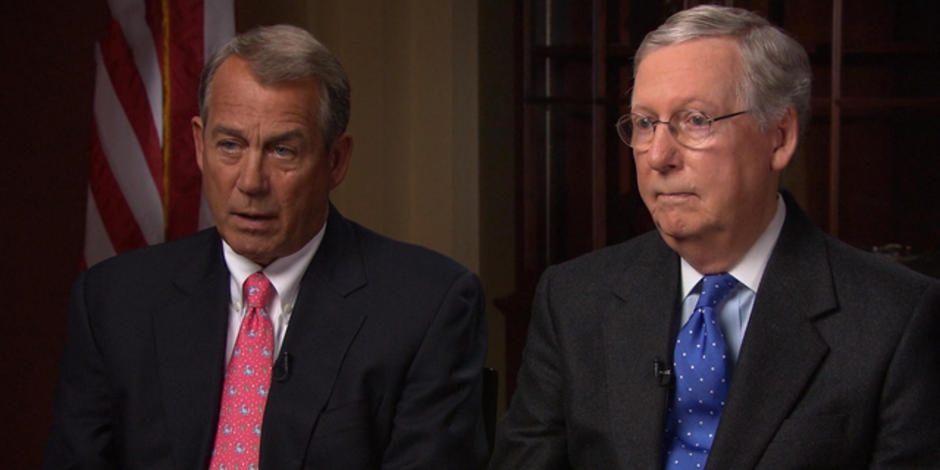 With presidential candidate Carly Fiorina's call to throw out Speaker of the House John Boehner and Senate Majority Leader Mitch McConnell if they do not pass an impossible laundry list of Tea Party dream-legislation, both Republican leaders have earned the impotent titles of Lame Duck Speaker and Lame Duck Majority Leader.
It's not that Boehner and McConnell have not tried to pass Republican bills, and in fact they throw pointless, ceremonial bones to the Tea Party base on the regular- especially with their dozens of attempts to repeal Obamacare- that have no chance to be passed into law while a Democratic president has veto power.
The solution to actually pass legislation would require somewhat-moderate, establishment Republicans to compromise with Democrats, but to abandon the radical right would ultimately be career-ending choices for the remaining archaic, center-right Republicans and would fracture GOP unity. By trying to maintain the façade of unanimity the Republican Party leadership has been held hostage by its Tea Party primary-plurality of a base, and right-wing radicals are ready to end the existence of moderate conservatism by going fully rogue.
Donald Trump, with his very real option of running third-party, has the power to officially shatter the GOP into two separate parties.
This means that the American political system is no longer a bipartisan duality, and that there are now, in effect, three parties: the increasingly populist Democratic Party, the old, establishment Grand Old Party of economic conservatism, and the Radical Party of Republicans organized loosely around varying Tea Party social ideas of fascist-libertarianism.
Now, please, understand that fascist-libertarianism is not an insult but objective identification. It is the reality that this developing political movement's philosophy is to force Americans to have the ironic "freedoms" of fascist-libertarians' choosing, and it is embodied in America's supposed culture wars. I'm not calling them Nazis; I'm calling them fascist-libertarians.
Like most fascist-minded political groups, the radical, third-party Republican base opposes diversity, and this is why the presidential candidates are trying to out-Republican each other in their pandering to the type of people who support xenophobic Donald Trump. These Americans are typically beneficiaries of societal privilege- whether privileges of race, gender, sexual orientation and/or religion- and they fear the ruination of America affected by social equality movements seemingly favoring feminine, black and Hispanic, Muslim, and LGBT demographics over the historic societal norm of white, male, heteronormative Christians.
And because the country's political pendulum is still swinging leftward, and the GOP establishment has recognized the pattern of presidential-democratic defeats, the fascist-libertarians are correct in their fear that America is not their America anymore.
This political fracturing of the Republican Party is hardest on the Republican establishment — especially Boehner and McConnell — because they are stuck in the middle of polar opposites, democratic-populism and fascist-libertarianism. The fascist-libertarians reject compromise of any kind, yet the Republican establishment still needs the cooperation of at least a splinter group of the Democratic minority to pass anything or override a presidential veto.
Congressional inaction has entertainingly changed the balance of our government, and President Obama has found clever ways to solve national problems with arguable executive overreach while the Supreme Court has become increasingly partisan with political personality. The Supreme Court has found that it must fill the legislative void that our gridlocked, hyper-partisan Congress has left with its ephemeral judicial interpretation of the laws already in the books.
As such the 2016 Election is a wild one because the presidency has extra power and significance with a divisively weak Congress. In choosing the next president, America's executive soul is currently at a crossroads between the democratic-populism of Bernie Sanders, and the fascist-libertarianism of Trump.
Sanders' campaign has not been equally covered in the media because the big political spectacle so far has been the Trump-obsessed, reality show of the Republican nomination, but Sanders' campaign, however, is making steady progress against Democratic frontrunner Hillary Clinton. The media will not be able to ignore the passion behind Sanders' democratic-populism for long, especially as he is beginning to take the lead in early primary state polling.
In the world of fascist-libertarianism, the big question is whether or not Trump will run third-party if he cannot win the Republican primary. Will he dismantle the Republican Party into autonomous, separate factions of laissez-faire economist-politicians and fascist-libertarian culture warriors? He pledged to support the eventual Republican nominee, but the pledge is toothless and perhaps futile with a businessman as ruthless and narcissistic as Trump.
Regardless of Republican splintering, Boehner and McConnell's careers are in their twilight, and I would not be surprised if both chose not to even run another Congressional campaign: Republican radicals are planning for a coming inter-party fight over Planned Parenthood funding and are seriously threatening Boehner's speakership if he does not play ball with their doomed legislative efforts.
Perhaps the radical, fascist-libertarian base of the Republican Party will inevitably mutiny against the GOP establishment with or without Trump, though it is great business sense for Trump to crown himself king of America's newest political party. Either way, Boehner and McConnell are lame ducks.
Image via CBS News