Survivor Is None Too Pleased With Huckabee For Using 'Eye Of The Tiger' During Kim Davis Rally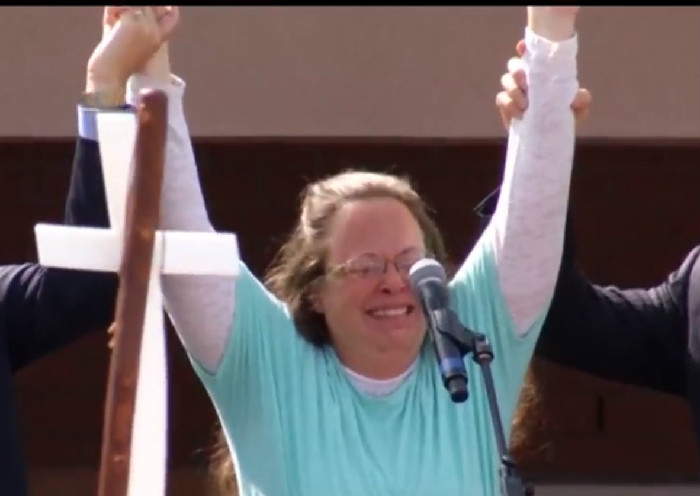 As you likely already know by now, Rowan County Clerk Kim Davis was released from jail on Tuesday after being incarcerated since Thursday for contempt of court. The attention-seeking wannabe martyr was sent to the hoosegow by a Kentucky judge for refusing to issue marriage licenses to same-sex couples and directly defying court orders to do so. By getting herself locked up, she made herself a super-celeb to the gay-hatin' Bible-thumpin' crowd, and found herself a couple of new best friends in GOP Presidential candidates Mike Huckabee and Ted Cruz.
Well, after the judge allowed her to walk free on the condition she wouldn't interfere with her deputies issuing gay couples licenses — she's still going to interfere — the Huckster brought her out to a rally to greet her new fans and be toasted as Queen Bigot. As she was brought on the stage, the familiar strains of Rocky Balboa's great motivator could be heard, as Survivor's 'Eye of the Tiger' was played as an entrance song. Davis bounded on the stage with her hands raised as if she had just defeated Clubber Lang while the iconic tune rang out over the crowd.
Just one thing, though. Apparently, the band is not only pissed off that they're being associated with Davis, Huck and the rest of the 'I Hate Gays' posse, but they are considering legal action. Guitarist and main songwriter Frankie Sullivan told TMZ that the group is looking into a lawsuit as they want to "protect the integrity of their music." Sullivan also took to the band's Facebook page and rebuked Davis and Huckabee for using their song without permission.
Below is Sullivan's post:
NO! We did not grant Kim Davis any rights to use "My Tune -The Eye Of The Tiger."
I would not grant her the rights to use Charmin! C'mom Mike, you are not The Donald but you can do better than that –
See Ya really SoooooooonnnnnnN!!!!!!
fs
Or, in other words, fuck both of you assholes!
Anyway, below is the true and awesome original video, completely devoid of a thrice-divorced dingbat telling others of God's Will when it comes to marriage.