Rick Santorum Chickens Out When Asked About His Opinion On The Confederate Flag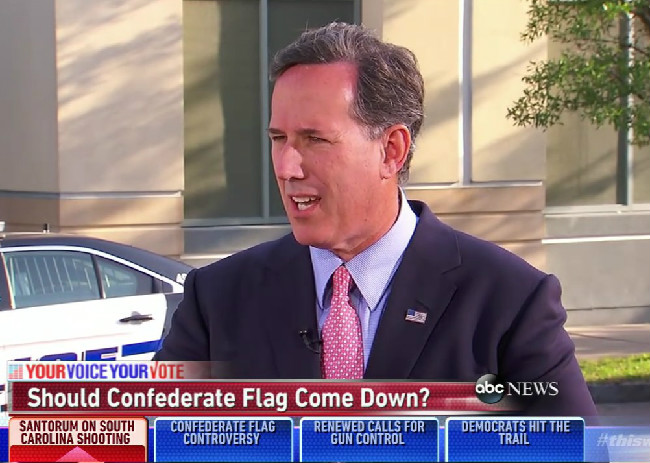 Republican Presidential candidate and frothy mixture of anal lube, ejaculate, and feces Rick Santorum appeared on ABC's This Week Sunday to discuss the racially motivated Charleston shooting and provide his opinions. Guest host Martha Raddatz asked Santorum a variety of questions related to the mass murder of none black churchgoers. For the most part, the conservative Christian hemmed and hawed his way through the five-minute segment, especially when it came to the possibility of additional gun control measures in the wake of the shooting.
However, where Santorum revealed himself to be a quivering bowl of jelly was on the issue of South Carolina embracing the Confederate flag and flying it in front of its state capitol. In the aftermath of Dylann Storm Roof murdering nine people solely because of their color, and the discovery of his racist manifesto and appropriation of symbols of white supremacy such as the flag, a conversation has begun about getting the state to take down the flag. A number of prominent Republicans have weighed in and supported the banishment of the flag, acknowledging it as a symbol of hatred, specifically for people of color.
Considering that conservatives like Mitt Romney and Jeb Bush have expressed opinions on the topic, it would seem to be a noncontroversial stance to come out against the flag, especially if you've claimed that the killings were racially motivated and an act of terror, which Santorum has. Hell, you can even appeal to die-hard white conservatives if you stand firm and say that the Confederate flag is a symbol of history and South Carolina should honor that history. Just express a goddamn opinion.
But nope, not Santorum. When asked, he just said it was up to the people of South Carolina and he refused to give an answer on where he stood in the debate. No matter how much Raddatz pressed, he wouldn't budge and just stammered through.
RADDATZ: — what about the Confederate flag?
You saw Mitt Romney's Tweet, I'm sure, bring down the flag. Jeb Bush has said bring down that flag.
Should they bring down that flag?
SANTORUM: You know, I — I take the position that the federal government really has no role in determining what the states are going to do.
RADDATZ: You're a candidate for president.
SANTORUM: I'm also…
RADDATZ: Do you not have a position on this at all?
SANTORUM: I'm — I'm not a South Carolinian. And — and I think this is a decision…
RADDATZ: It's beyond South Carolina, don't you think?
SANTORUM: I would say that these are decisions that should be made by — by people — you know, I don't think the federal government or federal candidates should be making decisions on everything and — and opining on everything. This is a decision that needs to be made here in South Carolina. I have — like everybody else, I have my opinion.
But I think the opinion of people here in South Carolina and having them work through this difficulty is much more important than politicizing it.
RADDATZ: But — but what is your opinion?
SANTORUM: Well, again, it's — my opinion is that we should let the people of South Carolina go through the process of making this decision.
Man, that is some weak fucking sauce there. In order not to be labeled as a racist sympathizer, but also making an effort not to offend white Southerners and good ol' boys, Santorum took the path of complete and total wimpiness. He should make a fine President of the United States!
Below is video of the segment, courtesy of ABC News: