Hey, Bill Maher, Please Stop Booking Your Buddy Ann Coulter As A Guest On 'Real Time'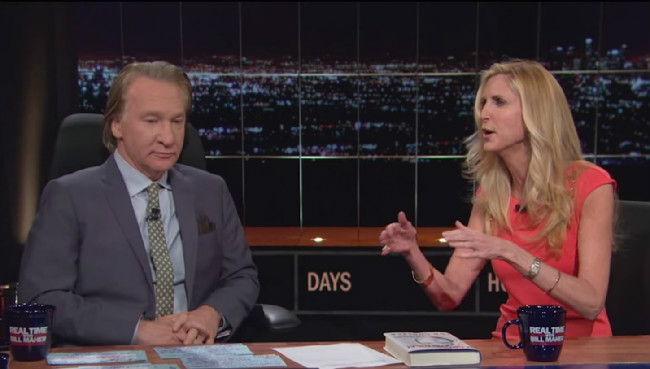 The second half of Friday night's broadcast of Real Time with Bill Maher devolved into an incomprehensible mess due solely to the fact that Ann Coulter was booked as a guest and she went full Ann Coulter on the panel. Days after a racially motivated shooting in Charleston, and with Hispanic Congressman Luis Gutierrez and MSNBC reporter Joy Reid sitting on the panel. Maher thought it would be a good idea to have his buddy Coulter come on and talk about her race-baiting, anti-immigration book and spout out her trademark bullshit. It went over as well as you would think.
Below is video of her trolling, courtesy of HBO:
One thing to note is that almost nobody in the audience gave her applause when she walked out. After some back and forth with Maher, where she touted her nonsensical figures regarding illegal immigration — she claims that her estimate of the U.S. having 30 million undocumented immigrants is on the low side — and made numerous inflammatory statements about people of different ethnicities. This was all just the lead up to her tangling with Reid and Gutierrez, which was what she — and Maher — really wanted.
Instead of actually attempting to debate Coulter on the substance of her shitty ass book, both Gutierrez and Reid were so incensed by her mere presence that the whole thing just became about pointing out what a terribly racist person she is. Gutierrez pointed out to her that her attitude, along with that of Donald Trump, would likely do serious damage to the GOP and kill their chances to take the White House if embraced by the party. Reid mostly just made faces and took offense to Coulter's description of minorities in general.
However, nobody really wanted to discuss anything substantive, which is supposed to be the reason for this show, and eventually just ended up shouting over each other. Maher finally shut down the conversation but did stick up for Coulter a couple of times, pointing out that Gutierrez and Reid never actually answered her questions or refuted the points she was making. And he was correct. Both of them were more interested in pivoting to righteous indignation, which is what Coulter does to people. She enrages them to the point of incoherence.
And this is why I am begging Maher not to book Coulter on anymore. She has been a frequent guest on Maher's programs for the past decade or so, and it is well known that they are close, personal friends. Therefore, whenever Maher wants to shake up the panel — or toss Coulter a bone when she has a book out — he brings her on. And it makes the show completely unwatchable because it is impossible to have any type of actual discussion with her. She drops the level of discourse down the lowest common denominator. She is all troll, all the time.
The biggest issue with her schtick is that she constantly has to be pushing the envelope further and further in order to draw media attention. In support of her latest tome, she has been making the media rounds and embracing the image of unapologetic bigotry. While in the past she mostly just used dog whistles and semi-coded language, she now is just going full racist, essentially saying the only way America can succeed moving forward is to espouse Anglo-Saxon ideals and fully prevent non-whites from immigrating here. (Except for some Asians…they're cool.)
If she wants to write these kinds of books and blog about this on the daily, there's nothing stopping her. If people want to buy that crap, go right ahead. However, do we have to be subjected to her on other platforms, especially when we tune in hoping for discussion and conversation about serious topics of the day? Is there an audience for her trollery? I think not. We all have friends, Bill, and we all want to help them out. But the rest of us don't have panel programs dedicated to debate and discourse. You do, so stop fucking subjecting us to Ann Coulter!