Congressman Who Called Obama A Muslim: Trump's Election Made Me See How Ugly I've Been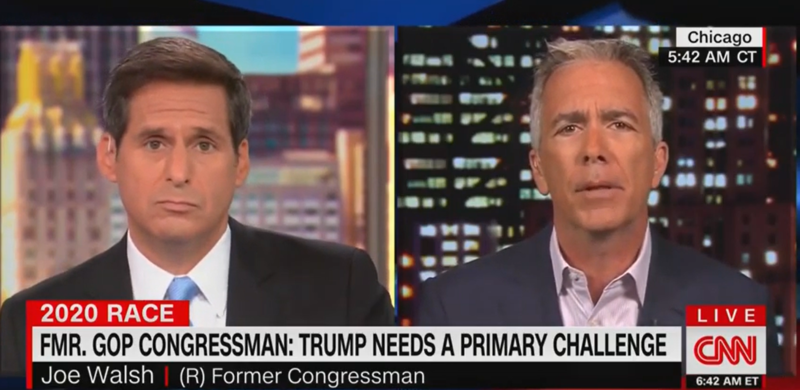 Former Republican Congressman Joe Walsh has admitted to being 'ugly' and launching personal attacks in the past. Walsh, who is calling for a primary challenge to President Donald Trump, told CNN that Trump had helped him realize that he should apologize for some of the things he had done.
Walsh recently wrote an op-ed calling for a Republican primary challenger. In the past, Walsh was an enthusiastic Trump supporter and famously tweeted about grabbing his musket if Trump lost. He has also previously said President Barack Obama was a Muslim.
"One of the most interesting things about this op-ed you wrote wasn't about the President, exactly," CNN's John Berman said.
"It was about you," Berman said. "You haven't spoken softly ever in your career. And you said a lot of controversial things. You were a bomb thrower for a long time. And one of the things you said among many is from December of 2016 when you said President Obama was a Muslim. For the past week, people asked why Obama hates Israel. The answer is simple, really, I think Obama is a Muslim. You said in this op-ed that President Trump has made you reflect on things you've said and done. How?"
"One of the reasons I wrote this op-ed was to apologize," Walsh said. "To apologize for the role that I played, that I played in putting an unfit con man in the White House."
"The country was divided before Trump. That's why we got Trump. I was at the head of that divide talking about and pushing ideas I believed in. As you said, I've been very outspoken. Oftentimes I stepped over the line. That was one of them. The election of Trump has made me see how ugly our side — both sides can get, but how ugly I've been."
"And it caused — It's caused me to reflect and no longer engage in personal attacks and just focus on the policy differences."
Berman called on Republicans to challenge the President and call him out as unfit for office. Walsh's transformation into a Trump critic is somewhat remarkable considering his past incendiary rhetoric.
Watch the video above, via CNN.