Israel Takes Trump's Advice to Bar Ilhan Omar and Rashida Tlaib from Visiting Country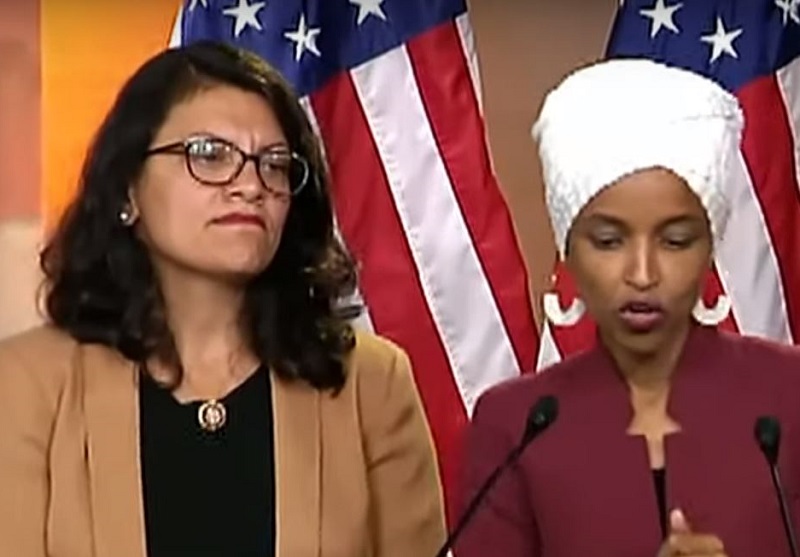 Democratic representatives Rashida Tlaib and Ilhan Omar were scheduled to visit Israel next week. But on Thursday, Israel's government announced it will bar the two Muslim women from entering the country.
The announcement is a total reversal for Israel. Just a few weeks ago, Israel's ambassador to the United States, Ron Dermer, had said that the nation would never bar members of Congress from visiting "out of respect…for the great alliance between Israel and America."
Additionally, members of Congress from both parties had lobbied the Israeli government to allow the trip.
Israel's reason is ostensibly to punish Tlaib and Omar over their support for the Boycott, Divestment, Sanctions (BDS) movement, the goal of which is to pressure Israel to comply with international law over its treatment of Palestinians in the Occupied Territories. But their support for BDS was well-known a month ago, when Israeli prime minister Bibi Netanyahu approved the trip. So what accounts for the reversal?
According to at least one Israeli journalist, it is pressure from Donald Trump:
It would show great weakness if Israel allowed Rep. Omar and Rep.Tlaib to visit. They hate Israel & all Jewish people, & there is nothing that can be said or done to change their minds. Minnesota and Michigan will have a hard time putting them back in office. They are a disgrace!

— Donald J. Trump (@realDonaldTrump) August 15, 2019
Trump sent that tweet on Thursday morning, after apparently days of complaining privately, and Israel almost immediately reversed its position.
Netanyahu later put out a statement saying he was reversing his position on the grounds that Israeli law bars entry for anyone who supports BDS, even members of Congress. But, as noted, Tlaib and Omar's support for BDS is not new, and did not seem to be a problem a month ago.
The move seems likely to further inflame BDS activists and widen the schism in both the Jewish community and in the Democratic caucus in Congress over support for Israel, an already-partisan issue that will become even more contentious.