WATCH: Seb Gorka Gets in White House Reporter's Face, Calls Him 'A Punk,' Runs Away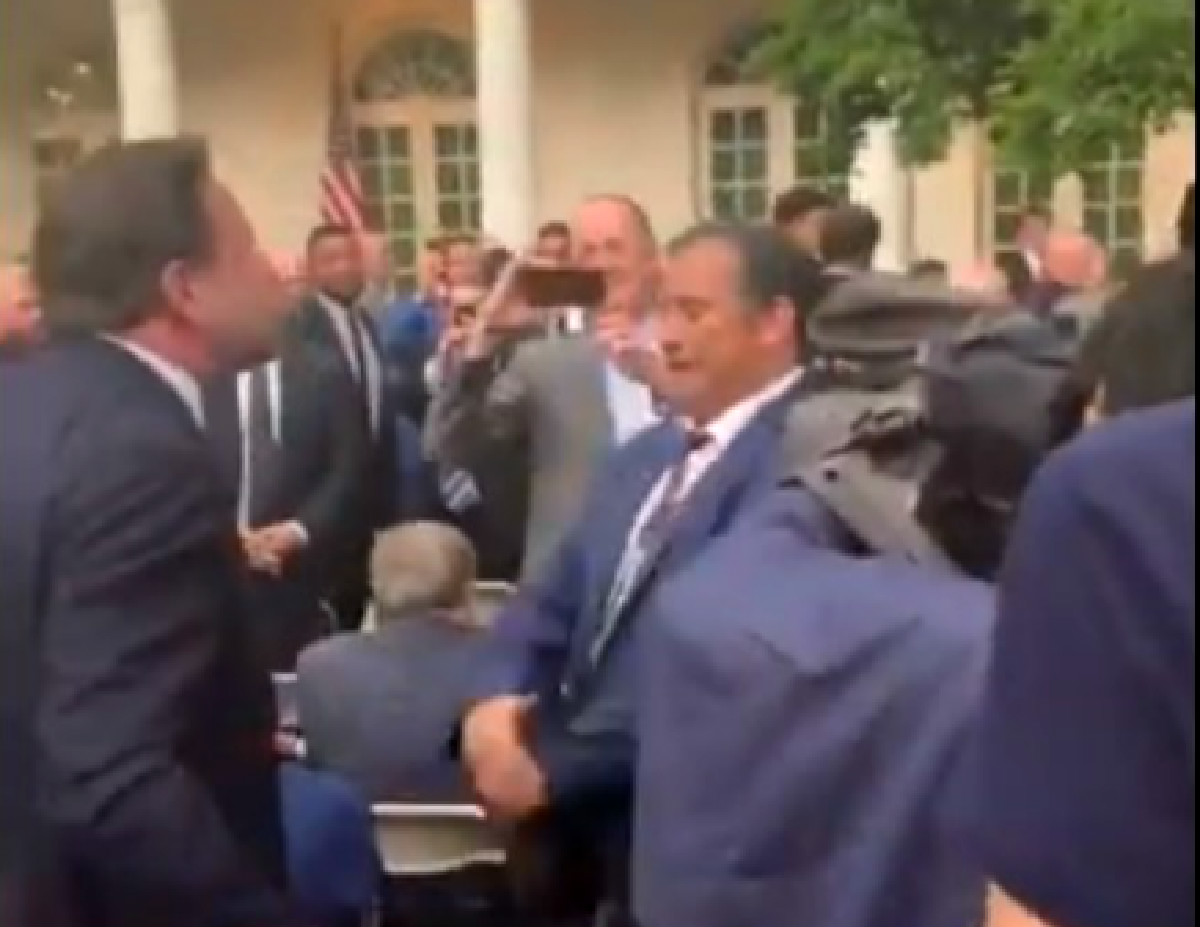 One-time presidential adviser and current right-wing radio host Sebastian Gorka, who was one of President Trump's invited guests for his Social Media Summit on Thursday, made his presence felt at the White House by confronting a White House reporter following the president's press conference announcing he was surrendering his citizenship question fight.
And in standard Gorka fashion, it was all bluster and fury signifying nothing.
After the president wrapped up his comments, Playboy White House correspondent Brian Karem — a notoriously rowdy and pugilistic reporter — shouted towards the president, noting he wasn't taking any questions. Karem, after someone told him "don't be sad," also strangely said of the gathered pro-Trump celebrities: "No, I'm just standing around — this is a group of people that are eager for demonic possession."
Gorka, who was seated with a bunch of other Trumpland social media personalities, didn't take too kindly to that and went into action, questioning Karem's journalistic credentials. This resulted in Karem eventually yelling back towards Gorka and telling him they could "go outside and have a longer conversation."
After the #SocialMediaSummit @realDonaldTrump invited the conservative influencers to the Rose Garden for his press conf

We got the nice seats & I guess "journalist" @BrianKarem was sad
He tried to pick a fight w/ @SebGorka & then thought better

My $$$ was on Seb as I note pic.twitter.com/yXfJfOKaZT

— Jim Hanson (@Uncle_Jimbo) July 11, 2019
The former Fox News personality, known for acting tough in public settings, began screaming "you're threatening me in the Rose Garden" at Karem as he quickly marched over to confront the reporter, shouting all the way.
"You're a punk," Gorka yelled at Karem. "You're not a journalist, you're a punk!"
And with that, Gorka scampered away, all while the other clout chasers and memesmiths — such as pro-Trump singer Joy Villa — chanted "Gor-ka!"
As Gorka stomped off, meanwhile, one of the other Trump reply guys could be heard shouting at Karem: "Just for the record, he would kick your punk ass!"
Elsewhere at the hilariously rowdy event, VOA White House reporter Steve Herman asked Gorka why he blocks so many people on social media, including Herman himself, considering the White House summit was supposedly about fighting censorship and bias.
After the @POTUS statement, I queried @SebGorka (former deputy assistant to @POTUS) in the @WhiteHouse Rose Garden about why he blocks so many journalists (including me) on Twitter, despite insisting that people on social media shouldn't be blocked. Here's what happened. pic.twitter.com/ujpztNDncb

— Steve Herman (@W7VOA) July 11, 2019
"I block whoever I want to," Gorka sneered. "I block 16,000 people. Because they're asshats. That's why."
"Am I an asshat?" Herman asked.
"If I blocked you, then yeah," the MAGA celeb replied as he walked away.