Dershowitz Talks About Epstein on Fox for First Time Ever: 'I'm Proud' That 'I Represented Him'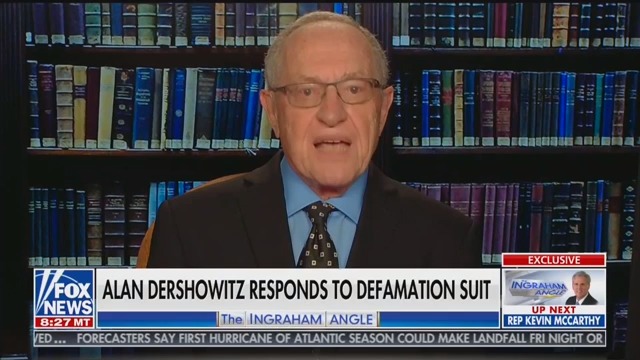 Famed attorney and Harvard law professor Alan Dershowitz finally talked about his one-time client Jeffrey Epstein on Fox News Thursday night during an interview with Laura Ingraham.
While Dershowitz has been on a bit of a media blitz since Epstein was arrested on sex-trafficking charges this past weekend to deny claims that he joined Epstein in abusing underage girls, he had notably avoided Fox News until Thursday.
Prior to his Thursday night hit with Ingraham, which largely covered the same ground as his previous radio and television interviews this week, he had not ever been asked about his pedophile client during his Fox News appearances. And he has shown up on Fox quite a bit.
According to the Daily Beast, following last November's bombshell revelation that current Labor Secretary Alex Acosta cut a sweetheart plea deal with Epstein in 2008, Dershowitz had made at least 71 appearances on Fox News until Thursday night. And even though the Epstein story continued to build up steam over the ensuing months — including a defamation lawsuit filed against Dershowitz by an Epstein accuser, claiming the lawyer had sex with her when she was underage — Dershowitz was never asked about Epstein on Fox airwaves.
Dershowitz's Ingraham interview wasn't supposed to be his first Fox News hit following Epstein's arrest. He had been scheduled to appear on Hannity Monday night, with on-air promos running over the weekend announcing his upcoming guest spot. Dershowitz, however, did not show that night, telling the Hollywood Reporter he was bumped because of a "crowded schedule."
As for his Ingraham interview, he held to his story that accuser Virginia Roberts Giuffre is a "liar" who "made up the whole story" and that this is all "part of an extortion plot to obtain a billion dollars from a businessman." He also asserted that her lawyer, David Boies, has personally admitted to him that Giuffre isn't telling the truth, and he'll reveal his evidence soon enough.
As for his client, he said he stopped representing Epstein after they made the plea deal and hadn't seen him in years. While insisting that he never "had any inkling that he had this other life," Dershowitz said he ended his social relationship with Epstein when he found out. Despite that, Dershowitz said he still became his lawyer, adding: "I am proud of the fact I represented him."
Watch the clip above, via Fox News.