Fox's Pete Hegseth: Kids Go To College Conservative And Leave With These Lunatic Ideas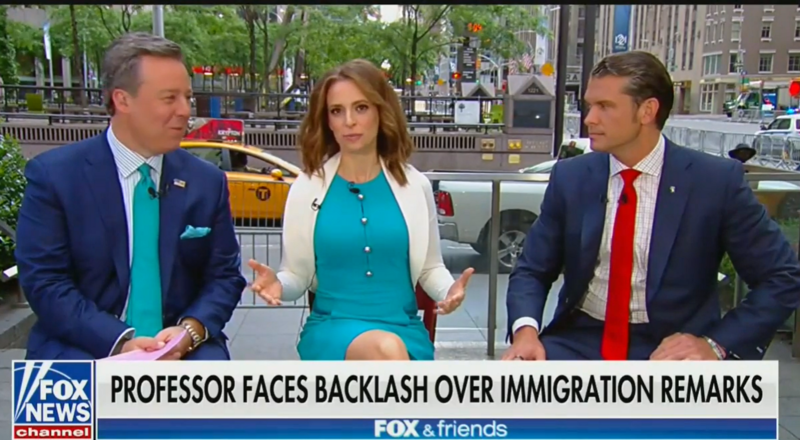 Fox & Friends Saturday jumped to the defense of a college professor who has been criticized for his comments on undocumented migrants. The professor, who is himself a legal immigrant, said that those who enter the country illegally are a financial drain and commit crimes at high rates. Though studies don't bear this out, the Fox News hosts were more concerned with defending the comments.
The Fox personalities were not happy that a local politician in Atlanta had questioned the professor's behavior in the classroom. The professor had said he talks about immigration to his students and they 'learn' about the costs of immigration.
"I have concerns about everything they teach in classrooms," host Pete Hegseth said. "This guy is very passionate and open about what he believes are the dangers of illegal immigration. He will certainly be under attack."
"It's selective attack. It's amazing. I don't hear these representatives coming out when people in class are indoctrinating kids with left wing dogma. I guess they're asleep on those occasions," host Jedediah Bila said.
"His opinion based on his own facts, his own life, his experience. Bringing it to the table. I'm not sure what's wrong about that," host Ed Henry said, apparently unconcerned about the phrasing 'his own facts'.
"If you look at some of the things he writes online, it's like, yeah, please, do write the school," Hegseth said, "Email the school. Call the school. Do whatever you have want. This is what I believe in, this is what I stand for. I present it to my kids and let them choose. And he said the majority of them leave my class believing that illegal immigration is a big problem."
"The thing happens in reverse all the time, like you said. Kids go to college conservative and they leave with these lunatic ideas," Hegseth said.
"That's the problem when you face the mob, though," Bila agreed.
The idea that good conservative kids go to college and are transformed into liberals or radicals is a Fox News canard that they never tire of trotting out.
Watch the video above, via Fox News.