Fox News Guest: Immigrants Can Rent A Kid To Cross The Border With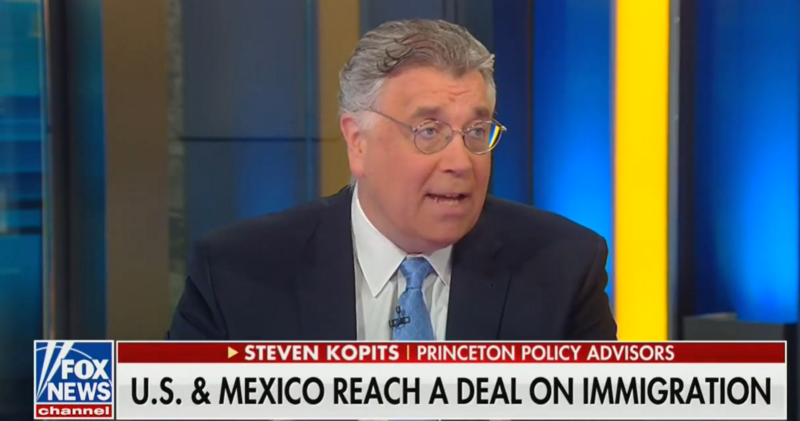 Fox & Friends Saturday discussed the new deal with Mexico on immigration that will see the Mexican authorities crack down on migrants. Steven Kopits of Princeton Policy Advisors didn't hold back when asked pointed questions on border policy.
"You know, the asylum law just opened up the border to families from Central America. It's now a free pass. Bring the wife and kids. You can get into the US," Kopits said.
"Or bring somebody else's kids?" Fox's Ed Henry asked.
"You can do that too. You can rent a kid if you want but the gist of it is the southern border is materially open now from families from northern triangle countries and other countries that have asylum and refugee implications some from Africa, for example."
The claim that migrants are 'renting' other people's children was recently made Senator Chuck Grassley, but there is little evidence of an illicit trade of this kind. A tiny minority of migrant groups have been found posing as families, just 1,126 out of more than 84,000 family groups up to May this year.
Kopits went on to talk about President Donald Trump's response to the border issue and made another telling admission.
"He has not very many cards to play here and he's playing what he can," Kopits said. "This migrant protection protocol and re-export, that's a positive. If it were possible to separate parents from children, that could be a positive."
Family separation at the border has taken a serious toll on migrants affected, but Kopits is encouraging more. Princeton Policy Advsiors is a self-styled conservative group. It is frequently cited in right-wing news outlets and does not appear to be associated with Princeton University.
Watch the video above, via Fox News.