Meghan McCain's Husband Comes Unglued, Calls Seth Meyers a 'Cuck' and 'Piece of Sh*t'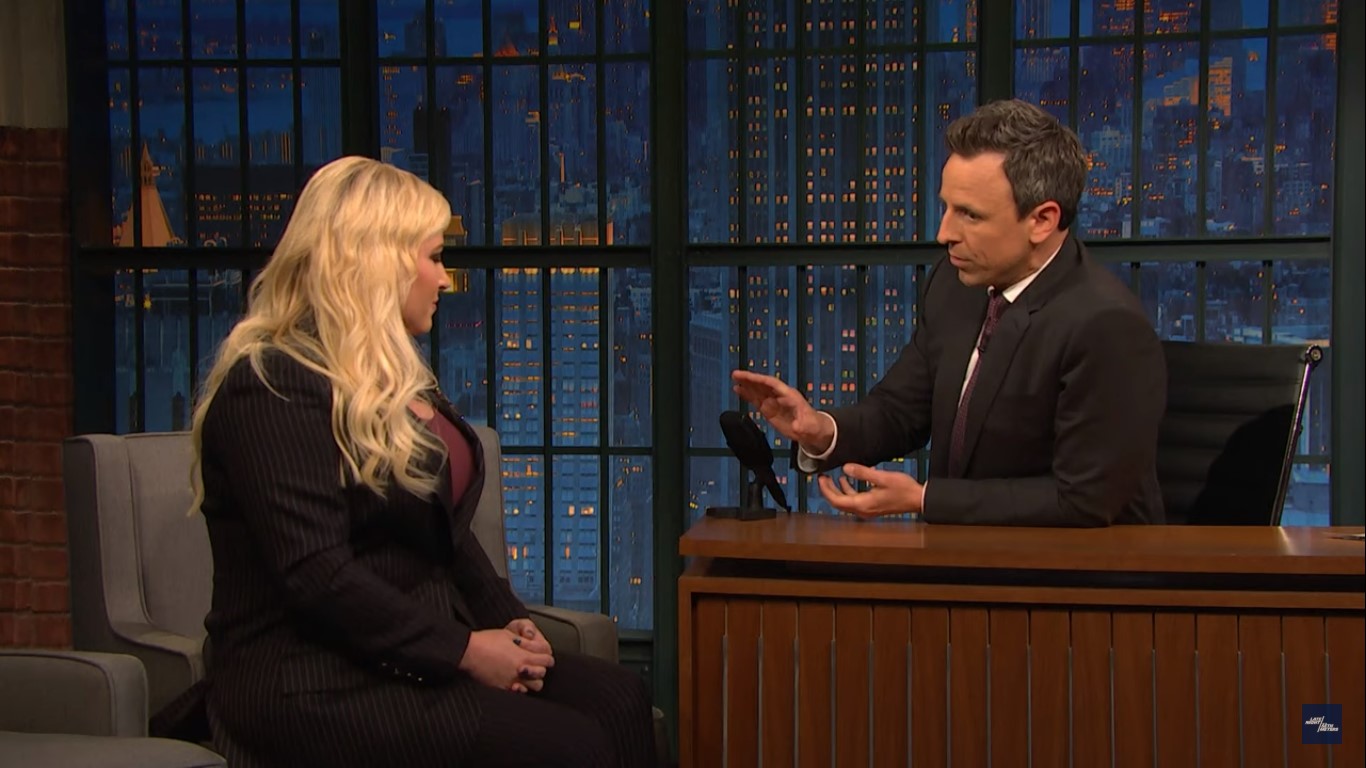 Ben Domenech, co-founder and publisher of far-right bad-take factory The Federalist, blasted late-night comedy host Seth Meyers in an unhinged series of since-deleted tweets after Meyers grilled his wife Meghan McCain over The View host's repeated attacks on Rep. Ilhan Omar (D-MN), prompting Domenech to embrace an alt-right insult and accuse Meyers of antisemitism.
During Tuesday night's contentious exchange on Late Night with Seth Meyers, Meyers pushed McCain for trying to tie Omar's purported antisemitic comments to the recent California synagogue shooting, telling her it was "fairly dangerous" since Omar has already found herself the target of increased death threats, asking McCain if she felt she should be more thoughtful with her language.
Eventually, McCain — who is the daughter of John McCain, if you haven't heard — grew increasingly testy and upset with Meyers' questions and attempts to find common ground, wondering if the Saturday Night Live alum was Omar's "publicist" and "press person." Meyers, meanwhile, calmly responded that he was "just someone who cares about the fact that there's someone out there who is in a minority, who has had death threats against her, and I think that we should all use the same language that you're asking her to be careful about her language, and I would ask everybody else to be careful about theirs."
Following the broadcast, Domenech tweeted that Meyers — who is of Jewish heritage, married to a Jewish woman, and has Jewish children — went after his wife with his "idiotic anti-Semitic bullshit." He added that Meyers is an "untalented piece of shit who only has his job because he regularly gargles Lorne Michael's balls," because why not toss some casual homophobia in there.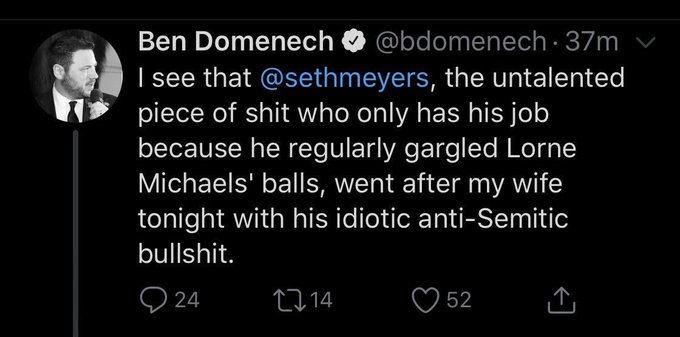 In another tweet, the Federalist chief used a slur that originated in the fever swamps of the extreme right.
"Here is proof that white men get ahead despite their obvious lack of talent: it's @sethmeyers, who would beg for a third of the viewers at @TheView," he wrote in the deleted tweet. "He's awful, untalented, and a perfect definition of a cuck."
Domenech added: "But the best thing is how much all the people around @sethmeyers talk about what a shitty person he is. Because oh, it is sad. So terrible. But he deserves all of it."
Somewhat ironically, Domenech recently fired conservative columnist Denise McAllister after she fired off several homophobic tweets targeting a gay journalist. Of course, McAllister also found herself on the wrong side of McCain, resulting in the infamous "you were at my wedding, Denise" tweet.
McCain, meanwhile, has played martyr when it comes to her accusations that Omar has engaged in antisemitism. She claimed on-air that the Muslim congresswoman's remarks impacted her personally because she had close relationships with Jewish people and she verges on being a Zionist herself. After Jewish cartoonist Eli Valley mocked her for appropriating Jewish heritage, McCain complained that the cartoon was antisemitic. (Yes, this really happened.)
While he initially declined to disavow the comments to The Daily Beast while attacking the outlet — this author also writes for The Daily Beast — and told Mediaite he was being "obviously metaphorical" in his over-the-top and homophobic remarks because he thinks Meyers is "trash," he eventually tweeted out a sort-of apology on Wednesday.
I love my wife. I apologize for rage tweeting about how Seth Meyers treated her. I don't like him, I think he's a hack, but I shouldn't have done that. I'm sorry to anyone I offended.

— Ben Domenech (@bdomenech) May 8, 2019