Meghan McCain Finds Way to Make Ilhan Omar Controversy All About Meghan McCain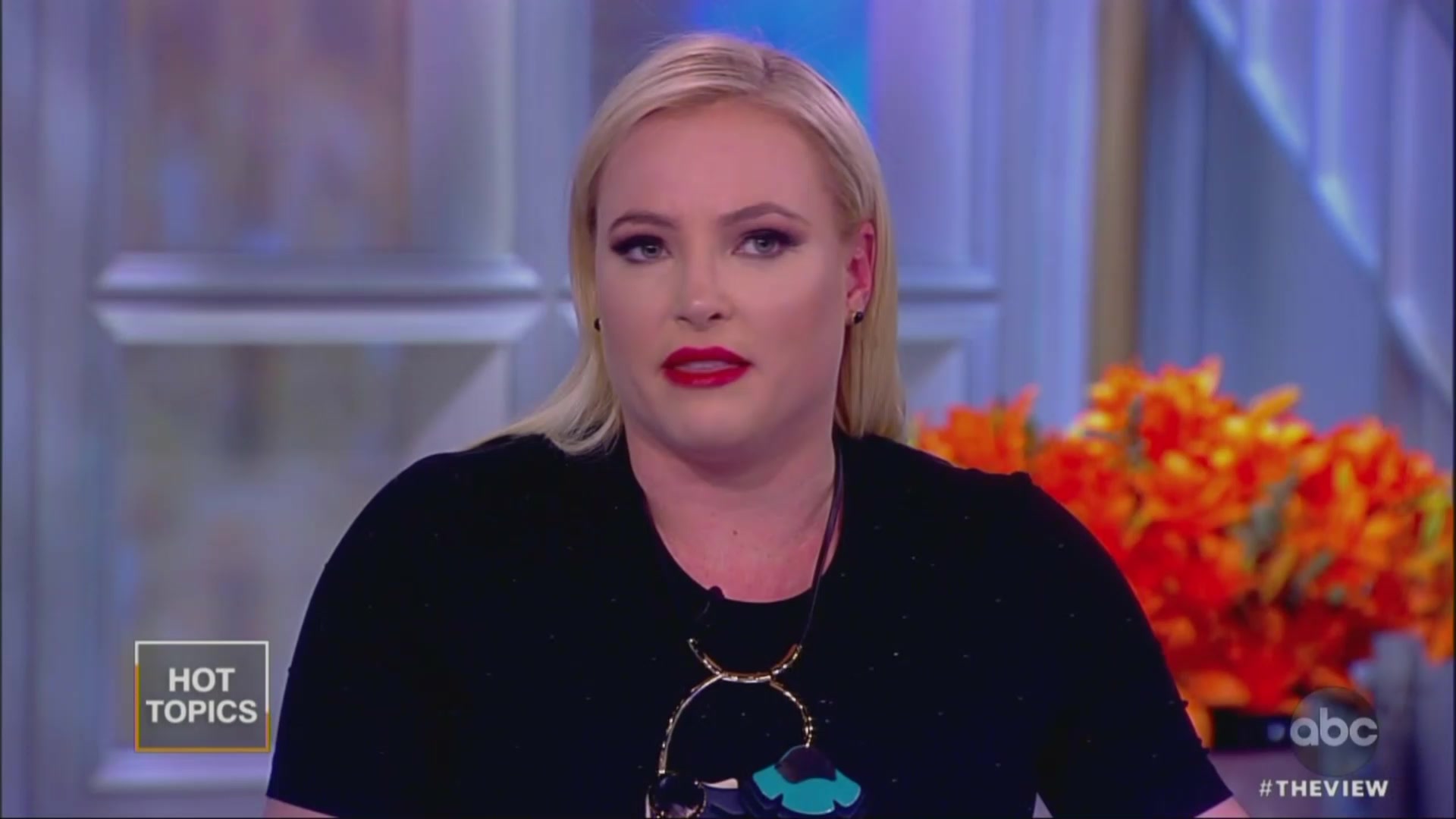 With Rep. Ilhan Omar (D-MN) once again finding herself in the middle of a firestorm of controversy over remarks that many perceive as being anti-Semitic, The View's Meghan McCain derailed a conversation over the House Democrats' proposal to pass a resolution denouncing anti-Semitism by making the issue completely about herself.
In recent days, Omar sparked outrage and backlash when — weeks after apologizing for using anti-Semitic tropes to describe pro-Israel lobbyists — she said that it's important to talk about "the political influence in this country that says it is OK for people to push for allegiance to a foreign country." Many saw this as Omar once again pushing anti-Semitic tropes, including a number of Democrats.
During Thursday's show-opening discussion on Omar, McCain braced the audience ahead of time that she was going to be emotional because "this issue is a really intense one for me" and that everyone was going to have to "bear with me" on it. After saying anti-Semitism needs to be denounced from both the left and right, McCain criticized "identity politics and intersectionality" for preventing Democrats for fully punishing Omar, noting that Omar is one of only two Muslim women elected to Congress.
This resulted in co-host Sunny Hostin interjecting, wondering aloud why it should be considered anti-Semitic for Omar to question pro-Israel lobby groups and policies, prompting McCain to attempt to interrupt. Hostin told her she wanted to finish, pointing out that it appears that Republicans are using this as a "wedge issue" and that Omar never said that Israel doesn't have a right to exist, causing McCain to go full McCain.
After yelling at Hostin that she's not engaging in selective outrage over the issue, McCain insisted that she take "this very personally" because she could "go so far as to say I probably verge on being a Zionist as well." It seemed apparent to some exactly what she was doing by stating that:
So Megan McCain says she "verges" on being a Zionist. You can be a Christian Zionist. There's many. It's OK. Just say it. Zionist does not equal Jewish. https://t.co/DxEKEQwUUo

— Alex Kane (@alexbkane) March 7, 2019
Given the context and syntax, I think what McCain really means to say is that she "verges on being Jewish." (It's pretty easy for the most goyish person to be a Zionist. David Lloyd George was!) But notice how she swaps out the one for the other, and then talks about the other as pic.twitter.com/yyTxoPoT73

— corey robin (@CoreyRobin) March 7, 2019
She then pointed to her family's close relationship with former Senator Joe Lieberman and began to cry, driving home the point that this was all very personal to her, even if she doesn't "technically have Jewish family that are blood-related" to her.
As tears welled in her eyes and her voice cracked, she explained how terrifying it was for a Muslim Congresswoman to speak critically of Israel.
"And it is very dangerous—very dangerous—and I think we all collectively as Americans on both sides—and what Ilhan Omar is saying is very scary to me and a lot of people and I don't think you have to be Jewish to recognize that," she concluded.
It didn't take long for many, especially on the left, to shake their collective heads at John McCain's daughter again making herself the absolute center of attention and somehow making a conversation about anti-Semitism a personal issue of hers.
This might be the single dumbest thing ever happen on television, and an excellent exhibit for how nepotism and dynastic privilege degrades culture. https://t.co/ffANLe9HMD

— Glenn Greenwald (@ggreenwald) March 7, 2019
I just assumed Glenn was being hyperbolic here but then I watched it and it is, indeed, dumber than almost any dumb thing you can possibly imagine. Meghan McCain breaking into tears over Ilhan Omar because she considers Joe Lieberman a family member is such a spectacular finale. https://t.co/aClOPTzKrw

— Tom Gara (@tomgara) March 7, 2019
I don't even really know what to say about this one https://t.co/5DvQp7mJg5

— Watching How To Make It In America W/My Uncle 🙏 (@ByYourLogic) March 7, 2019
The most offensive thing to me as a Jew is seeing Meghan McCain blubber while saying she's terrified of Ilhan Omar on my behalf

— Molly Crabapple (@mollycrabapple) March 7, 2019
her father spent his entire life luridly fantasizing about blowing up brown people and this is what she (fake) cries about? gimme a break. https://t.co/C6IpXoiizK

— Oliver Willis (@owillis) March 7, 2019
Meghan McCain: Ilhan Omar's comments made me cry because I hate bigotry & intolerance. Also, check out my RT of Ben Shapiro. pic.twitter.com/eDeyCMM48Z

— Katie Halper (@kthalps) March 7, 2019
Yo, Meghan, chill the fuck out. I'm an actual Israeli and I'm not scared. Well, actually I am. I'm super scared of what Netanyahu and his wingnut cronies are doing in my name. https://t.co/iNCXfODjeE via @thedailybeast

— Ayelet Waldman (@ayeletw) March 7, 2019