Fox's Stuart Varney Defends Chase Bank's Tweet: What Is Wrong With Giving Solid Financial Advice?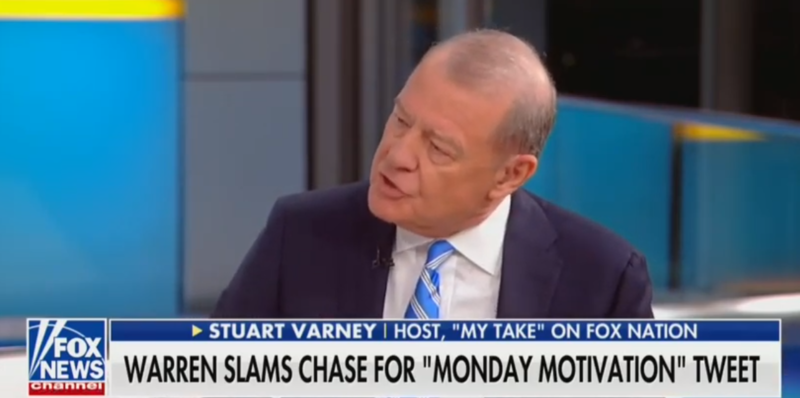 Chase Bank was widely criticized Monday for a tweet that appeared to mock its customers' financial difficulties, leading Senator Elizabeth Warren to attack the bank, which later deleted the tweet and issued a non-apology tweet. On Fox & Friends Tuesday morning, Fox Business host Stuart Varney defended the bank.
Varney was asked whether he sided with Warren or Chase.
"Chase, of course," Varney said. "What is wrong with giving solid financial advice? What's wrong with telling people hey, you are a little short on your bank account, things are tight. You don't have that much money to spend. What's wrong with being thrifty? What's wrong with someone saying you know, you could safe money if you didn't have $5 coffees at Starbucks. You could save money if you didn't take a $4 or $5 cab ride and walk instead. That's not poor shaming. That's good financial advice. Thrift is a virtue."
Varney then criticized the bank for deleting the tweet following the response.
"It's weak. It's absolutely weak. For Chase to withdraw what was good financial advice because they get a few critics. Mother Jones, this left wing news outlet came on and said you shouldn't be lecturing all people. You got to take that as it comes. Don't back off. Offer good advice, what's wrong with that?"
Jedediah Bila agreed with Varney, making some reference to how she used to purchase tea.
"Yes. Organize your finances to fit your income. What's wrong with that?" Varney said.
"Yeah. Tell your butler I'm not going to pay you for three weeks. I'm going to have to do my own laundry," Brian Kilmeade said.
Watch the video above, via Fox News.