Fox & Friends: Trump 'Never Got Credit' For His Blue Collar Appeal, Why Does Biden?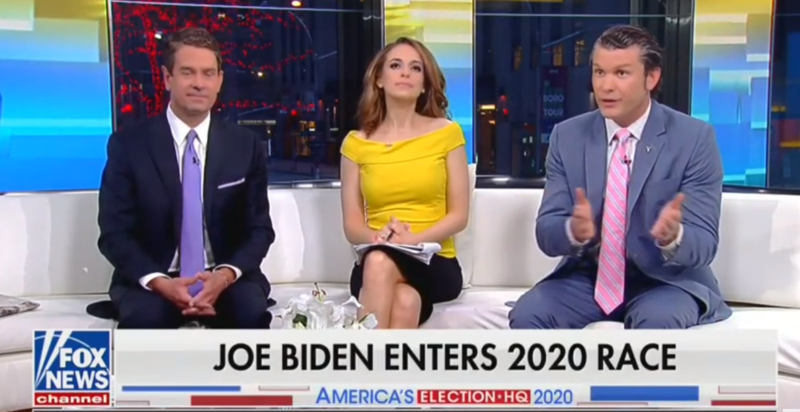 Former Vice President Joe Biden has made a major impact in just a few days following his announcement that he's running for president. He's managed to raise an impressive amount of money in a short time and he's ahead in the polls. But on Fox News, Biden is less impressive.
Fox & Friends Saturday did its best to downplay Biden's recent successes, calling his campaign launch video 'underwhelming to most' and questioning whether his fundraising numbers were good enough.
"Then he went on The View, a show you're a little familiar with, talked to the ladies on the apology tour get it all out in the beginning," Pete Hegseth said.
In a segment ostensibly about Biden, the hosts mentioned President Donald Trump four times and suggested he was being treated unfairly by the media, while those same media were 'swooning' over Biden. Following some clips of reporting on Biden's campaign, host Jedediah Bila re-enforced this double standard narrative.
"Approachable, he's an approachable street corner politician, " Bila said. "Joe Biden has that same blue collar appeal someone else has and that person is President Trump. They have a very similar way of talking in a down to Earth fashion. Trump never got credit for that. I just love the way they twist it."
"It's nice to see Chris Matthews has a thrill up his leg again," Bila said of the MSNBC commentator. "I mean, really it's so transparent right out of the gate. I think they better be careful though. Because if they choose, if they decide… They're going to decide early on, the media, who they love and who they're going to support. I would be very careful about choosing Joe Biden."
Watch the video above, via Fox News.