Nicolle Wallace Giggles When Trump Attorney Says the 'President Doesn't Support Anyone Telling Lies'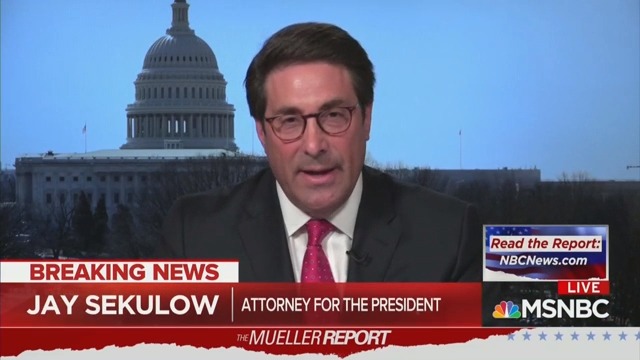 During an interview with Trump attorney Jay Sekulow following the release of the redacted Mueller report and Attorney General William Barr's attempt to pre-spin the findings, MSNBC host Nicolle Wallace was unable to contain her laughter when Sekulow told her colleague Ari Melber that "the president doesn't support anyone telling lies."
After getting additional details on when Trump's legal team received a copy of the report prior to its public release so they could put together their rebuttal, Melber asked Sekulow if he saw any "appearance of impropriety given your client is the subject."
"Precisely because of what you said. Since our client was the subject of a lot of discussion in the report, that's the practice under government ethics," the president's lawyer responded.
"The other question is Mueller finds these lies, I read you the quote," Melber noted. "Do you accept that finding and does the president condemn those lies that interfered with his own Justice Department's investigation?"
"I know which ones I believe you're talking about," Sekulow replied. "The president doesn't support anyone telling lies. Let's be crystal clear on that."
As Sekulow kept answering Melber's question, Wallace could be heard giggling in the background, obviously over the attorney's assertion that Trump — who has told close to 10,000 blatant falsehoods since becoming president — would have any issues with someone lying.
Watch the clip above, via MSNBC.
[H/T Vox's Aaron Rupar]