Watch: Fox & Friends Studio Audience Cheers Anthony Scaramucci's 11 Days In The White House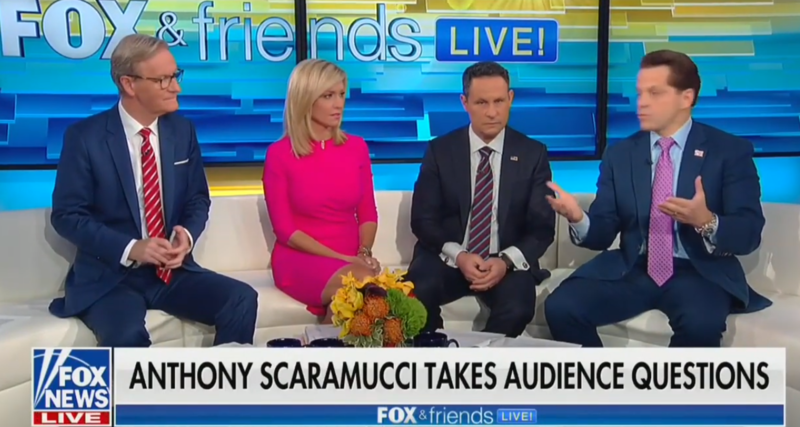 Former White House Communications Director Anthony Scaramucci was cheered and applauded on Fox & Friends Friday morning. Fox News' flagship morning show brought in a live studio audience, a practice that's becoming increasingly common. The audience was very receptive to 'the Mooch'.
Scaramucci discussed a number of Trump-related issues with the Fox & Friends hosts before they went to questions from the audience. Scaramucci was asked about the working environment in the White House and reports that President Donald Trump engages in 'workplace violence'.
"I heard somebody say I was there for 10 days. I was there for 11 days," Scaramucci said. The audience reacted with laughter, hoots of approval and a round of applause. Scaramucci has been seen as something of an expert on the administration despite his famously short tenure in the White House.
"Don't cheat me out of that one day. That was an important day. That was the day I got fired," he said.
Scaramucci was in the job from 21 July, 2017 to 31 July, 2017. He was fired following an indiscreet interview.
"Here is the thing I would say to you. No workplace violence. The President is actually a very easy guy to work with. But you've got to listen to him and follow his truth of the matter I made a mistake and they decided to fire me over it I'm a very big boy. I stayed loyal to the President."
"At this point I would say to the President, hire a personnel director that likes, you know, that's more loyal to you than what's currently going on. That would be my best advice. Because I think what happens  is they're hiring these never Trumpers and RNC people that are not really tied to the President's agenda."
Scaramucci went on to joke that George Washington had written an anonymous op-ed from a White House insider attacking Trump, before host Steve Doocy asked the audience: "How many people want to see Anthony Scaramucci back at the White House?"
Doocy's suggestion was met with applause and cheers.
Watch the video above, via Fox News.