Eric and Lara Trump Exclaim on 'Fox & Friends' That Donald Trump 'Is Always Right!'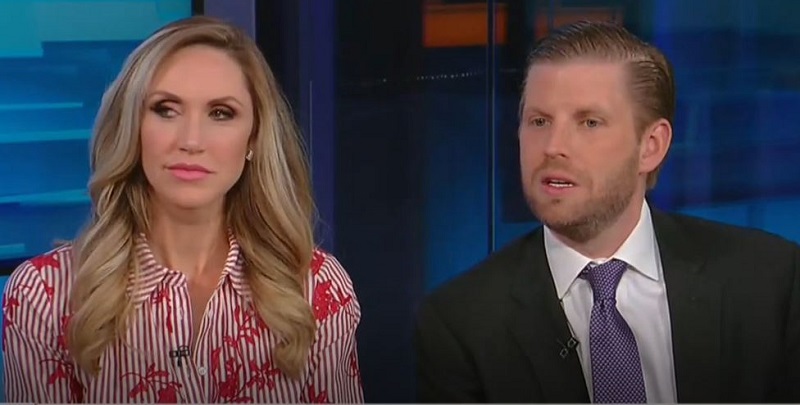 Presidential spawn Eric Trump and his wife, Lara, told the crew of Fox & Friends on Friday morning that the "Deep State" is real and has met its match in Donald Trump.
Surely the president, Fox's most famous viewer, appreciated the cheerleading session.
After talking for a moment about Lara Trump's recently announced pregnancy, Steve Doocy brought up Attorney General William Barr, who told a House committee this week that the government had spied on Trump's 2016 campaign. Barr has been slammed for this language, which makes the FBI's actions in 2016 sound nefarious.
"It did occur!" Eric Trump said of spying, to the shouted agreement of the live audience.
"My father always went around during the campaign, talking about the Deep State," Eric Trump continued. "The Deep State does exist and it did exist. You see all these emails between FBI people about insurance policies and other things. You see dossiers that were paid for by political candidates that were leaked through people's wives."
"But guess who the first person is who called 'em out?" Lara Trump added, cementing her spot in the will. "Donald Trump! Way back when, and he's always right."
Meanwhile, the live audience of conservative Fox fans nodded along as if this doesn't sound crazy.
What Barr and now the entire conservative media complex called "spying" might sound bad. But what was happening was surveillance as part of a counterintelligence operation, due to concerns by the FBI that the Trump campaign had been approached by Russian operatives, and might even have been wittingly or unwittingly cooperating with those operatives to affect the election.
It says something about the Trumps that they are not mad about the Russians for approaching the campaign, but for the nation's intelligence services for noticing and being concerned about it.
Watch the video up top, via Fox News.